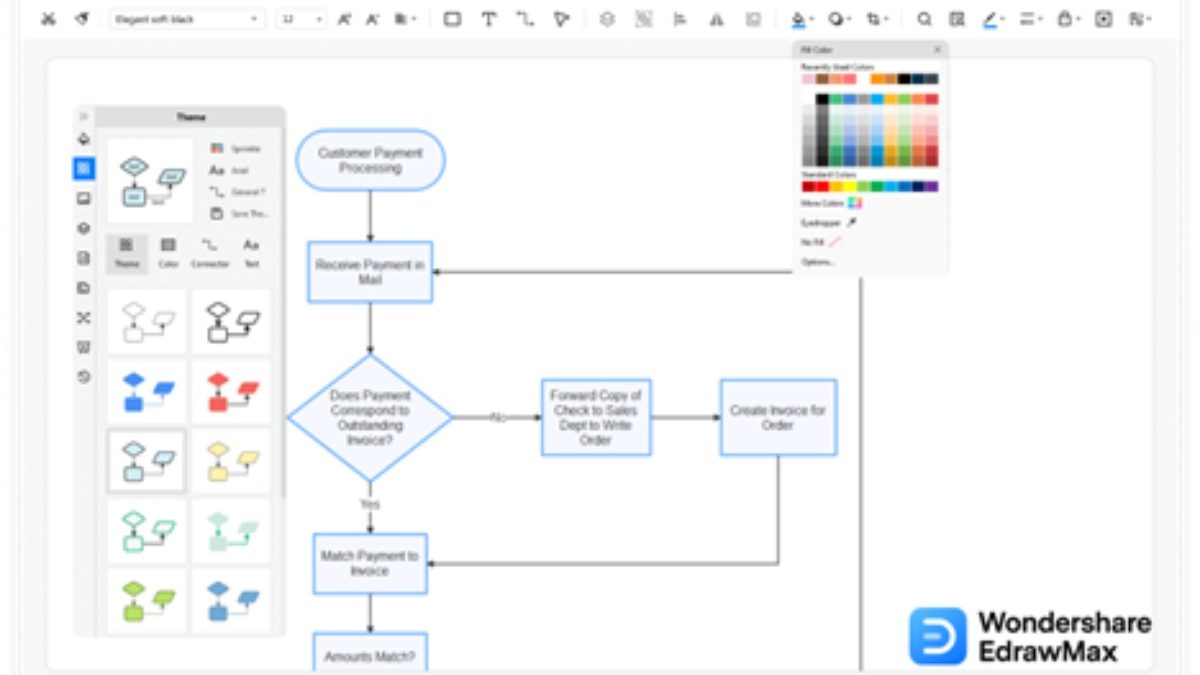 Lead-in Part
A flowchart easier is a graphical depiction of any process, development algorithm, or system in a way where we break it down into multiple steps. In a flowchart, every step is independent of implementation. As the nature of a flowchart suggests, it helps understand what input is required to start a particular process and what output one can expect with that input and execution. With flowcharts, we aim to improve clarity, reduce bottleneck issues, improve communication between team members, work on clearer documentation, and more.
In this detailed article, to make flowcharts easier, we will suggest the easiest way to make flowcharts for academics or business purposes. However, before we help you make a flowchart with flowchart software, let us identify the significance of creating a flowchart.
Why is a Flowchart Significant?
A flowchart is a visual illustration of a process or any computer algorithm that helps understand more about that particular system. Most companies use flowcharts as a way to understand the solution to any given set of problems. However, in reality, a flowchart helps break down the entire problem into multiple steps, which is relevant in agile methodology.
Some of the important aspects of having a flowchart are:
Flowcharts can help identify the important steps of any process while illustrating the bigger picture, which helps in identifying the end result of the process.
With the help of flowcharts, it becomes easier to organize all the tasks in the correct chronological order.
A team can learn more about the redundancy of the process and remove the bottlenecks and other flaws that are required to improve overall efficiency.
With flowcharts, it becomes efficient for the entire team to understand the important steps. But at the very same time, the flowchart aims to offer a visual description of the overall process that helps the non-tech members to understand what is going on within the system.
Since most team members work remotely, flowcharts make communication much smoother and more efficient.
What is EdrawMax?
EdrawMax is a powerful diagramming tool that provides a wide range of features. These diagramming features let you make any simple or complex flowchart in just a few minutes. This free flowchart software comes with pre-built templates and vector-enabled symbols. With the help of these templates and symbols, you will not have to worry about the technicalities of any flowcharts. This best flowchart software also lets you export your flowchart design in multiple formats, ensuring you will have a smooth collaboration with your team members.
With this free flowchart software, you can work on different flowchart types, like:
Business Process Model & Notation (BPMN) diagrams
Workflow Diagrams
Audit Diagrams
Cross-Functional Flowcharts
Data Flow Diagrams
IDEM Diagrams
SDL Diagrams
And more
What is amazing about EdrawMax is that you can make all these different flowcharts in one canvas. With EdrawMax, you can create 280 different diagrams, like mind maps, UML diagrams, science diagrams, and more, either from scratch or using the professional templates that come with every registered account. This flowchart software is designed to make it convenient for businesses to create branded charts and diagrams.
How to Make a Flowchart Effortlessly?
If you want to make a flowchart easily, check out EdrawMax. This powerful tool has all the required features that not only let you create a beautiful flowchart but ensure that you can share it with your team effortlessly. Check out the following steps if you are planning to make a flowchart effortlessly:
The first step in order to create a flowchart with this flowchart software is to download it to your system. If you plan to collaborate remotely with your team members, you can even check out EdrawMax Online, which offers a way to add members to your team. Once you have downloaded the tool, you can register using your email address. On the homepage of this tool, you will find several diagram types ready to be explored. Head to the 'Flowchart' diagram type that comes under Basic and check out different flowchart categories that resonate the most with your current requirement. Click on any of them and start building your flowchart easily.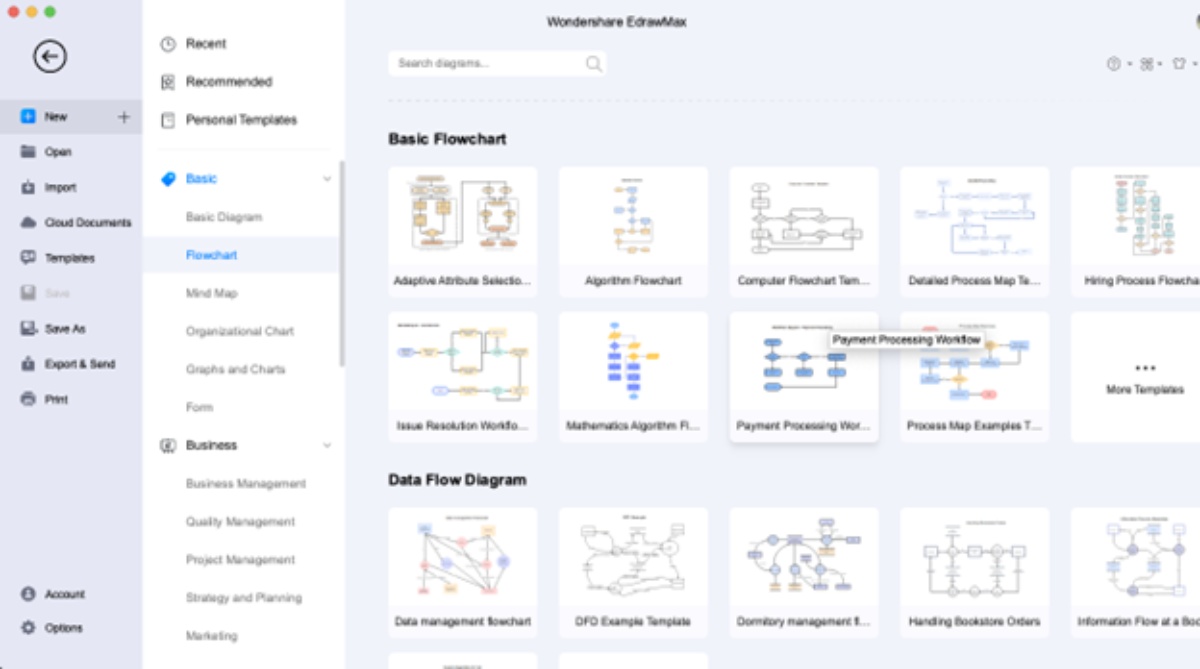 If you plan to create a flowchart from scratch, click on '+' to get yourself started with a Blank Diagram. This flowchart tool will automatically take you to the canvas, where you can access flowchart symbols or components. However, if you need some assistance in getting started with the flowchart, head to the 'Template' section that you will find on the left side of the home page. In the 'Template' section, look for flowcharts, and the tool will instantly present you with hundreds of user-generated flowchart templates, like Engineering Flowchart, Swimlane Flowchart, Deployment Flowchart, and more.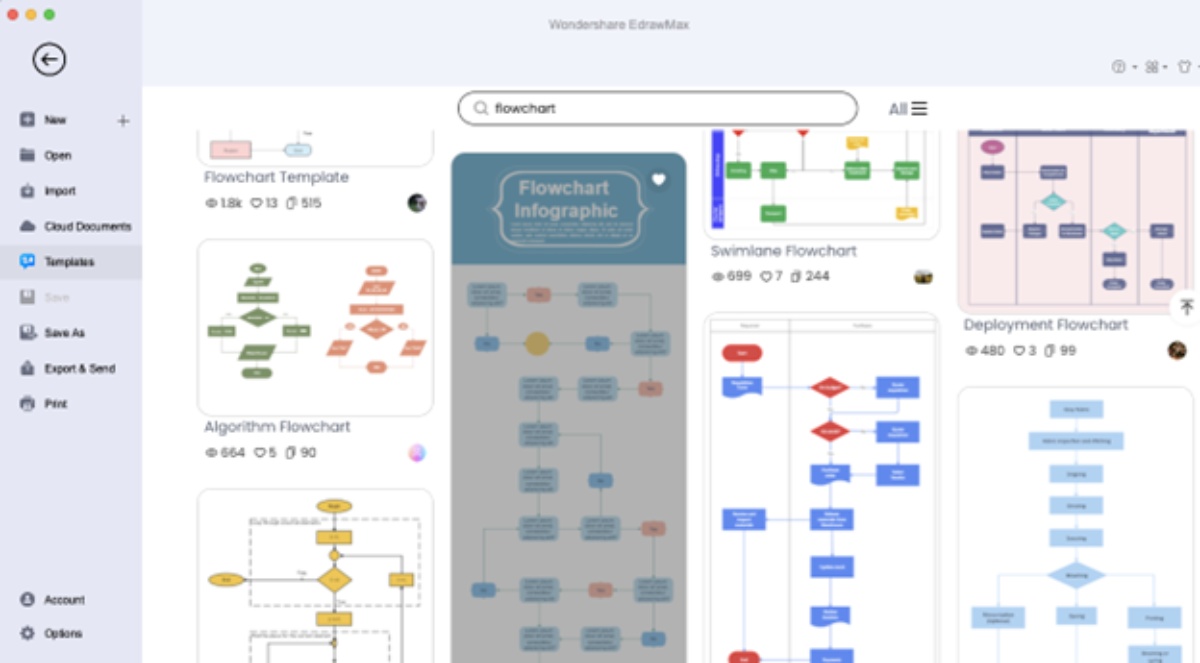 These templates are 100 percent customizable. Click on any of these templates, followed by 'Use Immediately' to instantly copy the entire content of these templates to your canvas board.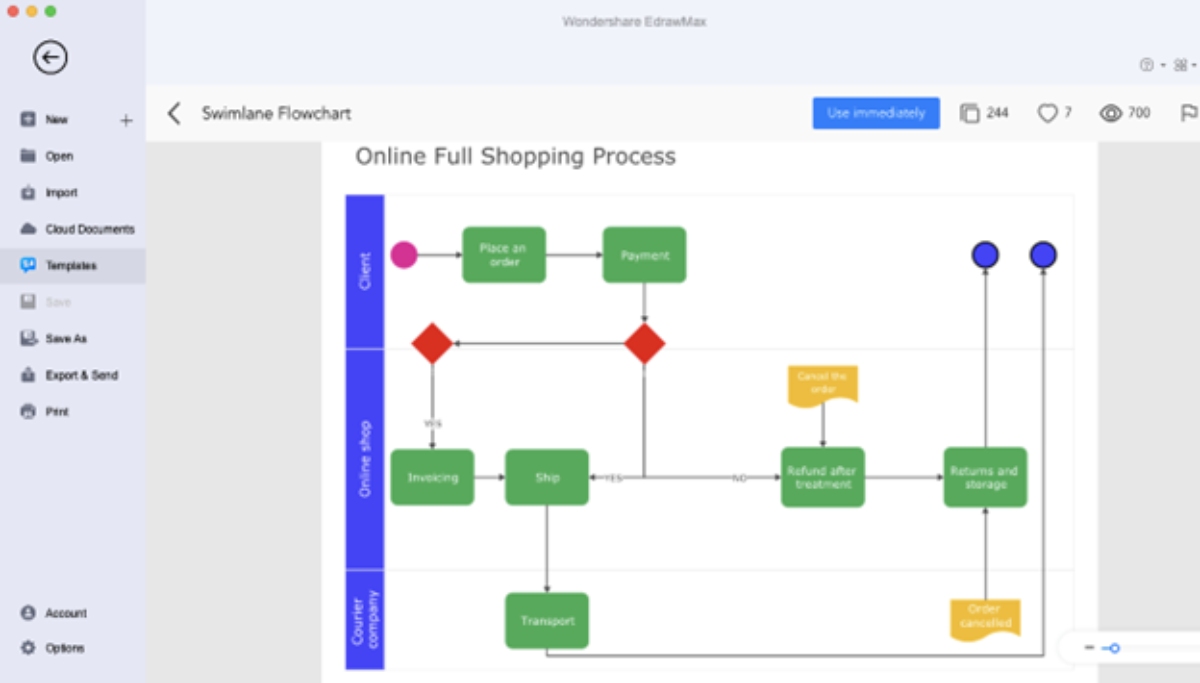 Once you have started with a template or from a blank design, you can start adding flowchart components to your diagram. EdrawMax is equipped with pre-built symbols that help in creating flowcharts easily. From the left window, you can start placing Oval, Rectangle, Arrow, Diamond, and other symbols as required. Double-click on any of these components to add the text.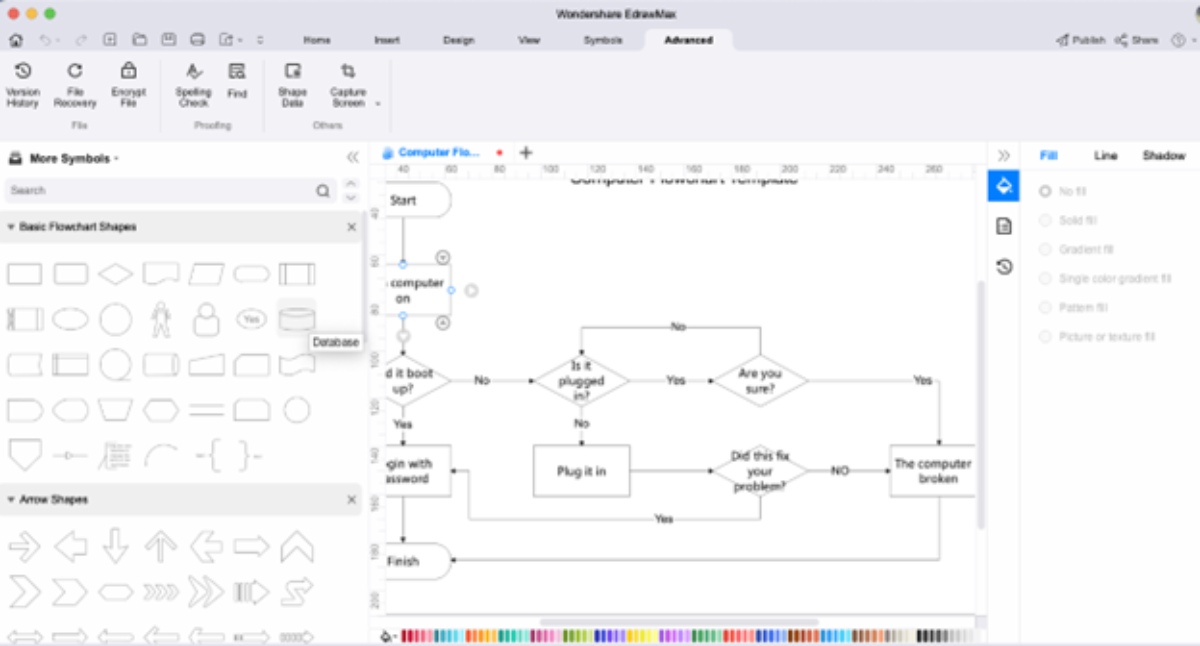 If for some reason, you do not find the flowchart symbol that you need, you can easily create one using the Pen/Pencil feature.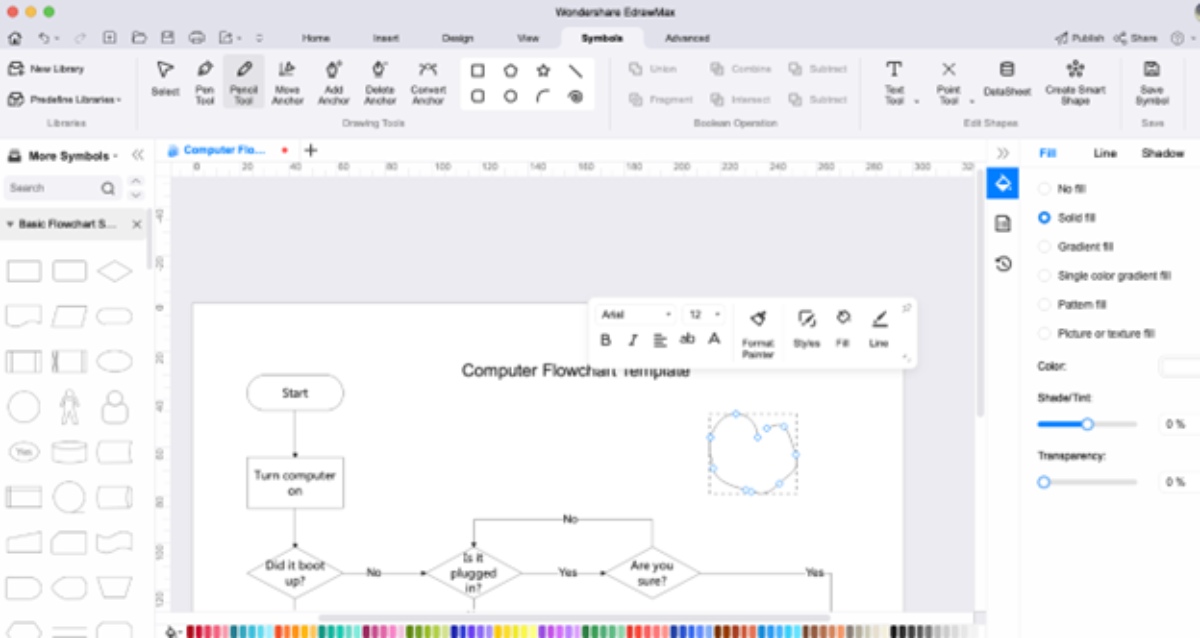 With this free flowchart software, you can easily export your design to multiple formats, like JPEG, PNG, SVG, PDF, HTML, Docs, and more. If you are on the paid version of this tool, you can even export the flowchart design in VSDX format.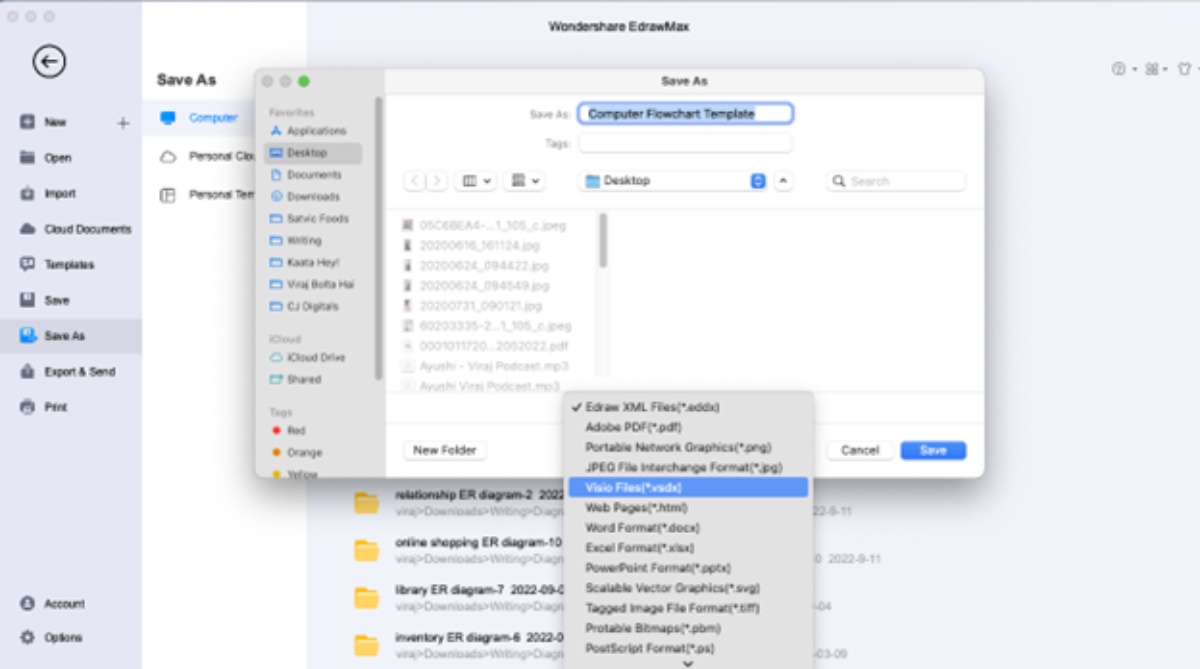 EdrawMax lets you easily share your design with the world by accessing multiple in-built features, like social media sharing, emailing, embedding the design, and more. Furthermore, you will be independent of any third-party tool if you want to give a presentation of any sort. With the pre-built slideshow-sharing option, you can present your diagram to your current or virtual team.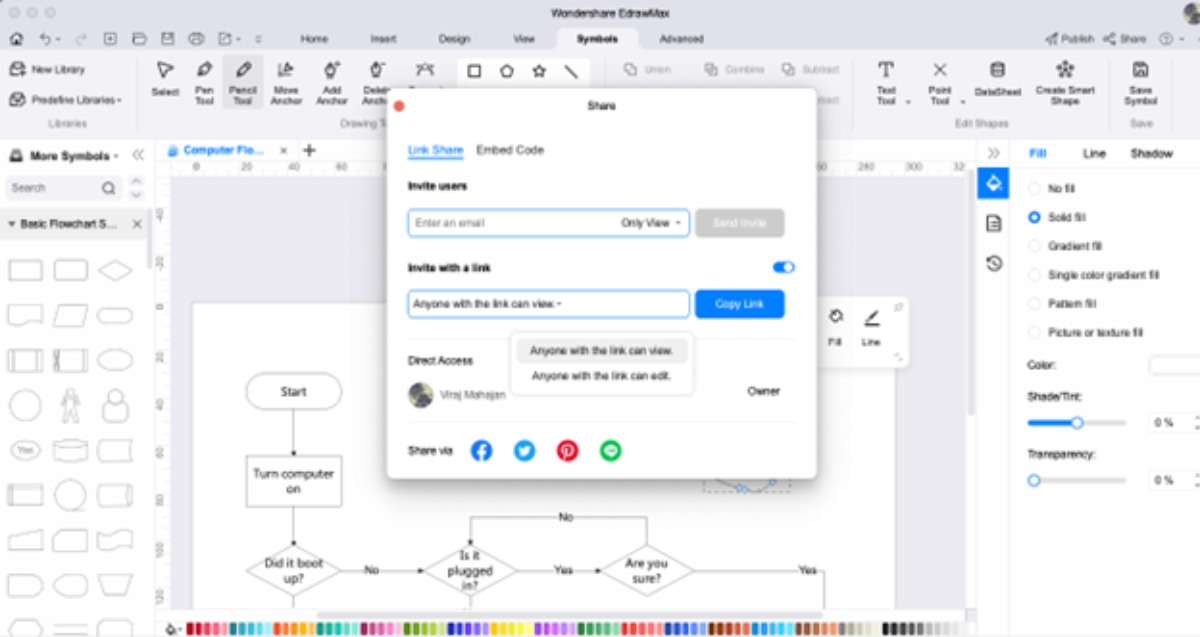 Also Read:Complete Guide On Looker Data Actions
Final Thoughts
As the name suggests, a flowchart is a pictorial representation of the steps of any given process. Creating a flowchart with the software comes in handy as it saves time and lets the team visualize the process in a more effective manner. With free flowchart software, like EdrawMax, creating and sharing flowcharts with the team becomes much easiest and simpler. The built-in templates are yet another reason to use EdrawMax if planning to make flowcharts with less effort.
Related posts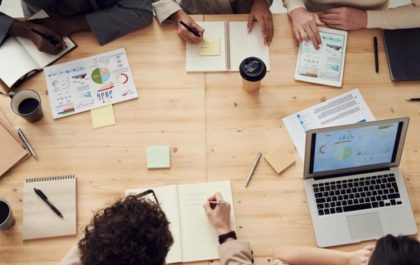 How to Plan a Project That Is Guaranteed to Succeed
Planning and executing a successful project can be a challenging task, especially if you have never done it before. But,…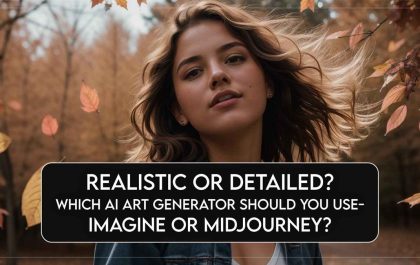 Realistic Or Detailed? Which AI Art Generator Should You Use – Imagine Or Midjourney?
Setting the Stage for AI Art Generation Artificial intelligence (AI) art generation is a rapidly developing field with the potential…