Drones are becoming very popular these days—a must-have item that is equally popular amongst professional and recreational photographers/videographers. Drones are used to capture high-definition aerial pictures and to make beautiful videos from above. However, these videos become easily corrupt. Nothing can be more stressful than seeing your beautiful photos and videos getting damaged, but there is no need to worry because, with the right tools, you can quickly repair corrupt video(s) as well as help you repair DJI video Files (s). So, let's get started and share some common reasons why it happens and how to fix it.
Part 1- Few Common Reasons for DJI Video Files Corruption
A drone takes pictures and makes videos of places from angles that are difficult for humans to reach. Sometimes, when those pictures and videos become corrupt, there is a high risk of losing essential data. Also, it is worth mentioning that all your hard work might get wasted. And sometimes, losing such pictures and videos can mean financial loss as well. So, it becomes crucial to find a solution to repair a corrupt video or repair a DJI video.
There are many reasons why your data might get corrupted, for example:
Stoppage during transferring files: This happens when you accidentally remove your storage device or when you remove it without following proper steps.
Viruses: Connecting your device to computers already affected by viruses can either damage the files or affect the quality of pictures and videos.
Sudden system shutdown: This can happen in the event of a power failure causing you to lose your data either wholly or partially.
Careless handling of equipment: Leaving your drone camera unattended or not being careful in handling your equipment may cause damage to the equipment inside and result in data getting corrupted.
Accidentally erasing your storage device: It is essential to be careful when formatting or erasing a storage device. Being careless when you are formatting your storage device can result in loss of data.
Sudden DJI crash: This happens when the drone operator loses control of his drone and crashes into a hard surface.
Low Battery: Taking pictures and making videos with a low battery can sometimes have a harmful effect on the quality of images and videos.
Part 2- How to fix corrupt DJI video files?
Now that we know the reasons for our problem. Let us discuss the methods that will allow us to repair the corrupt files.
·       Use Command Prompt:
One of the best ways to repair a corrupt video by using a command prompt. It is readily available on all Windows, and all you have to do is to follow these simple steps:
Go to the Start menu to find the command prompt or simply type "cmd" in the windows search bar.
Then type this command: "dism.exe /online /cleanup-image /restorehealth".
Then type SFC/scannow; after finding the corrupt file, command prompt will repair it.
·       Use VLC Media Player
If you are using either MP4 or MOV format, it is convenient to use VLC Media Player to fix your corrupt video files. Follow these simple steps:
Create of your data by copying the corrupt video(s) to an internal or external storage device.
Rename your file, and do not forget to change the format of the video to AVI.
Once you have opened the VLC Media Player on your computer, click on the "Tools" and then, from the drop-down list, select "Preferences" or (Ctrl+P).
Click on the Codec/Image tab
Click on Damages/ Incomplete AVI files
And Click on Always Fix from the menu.
Save to confirm the changes.
·     Use DJIfix Software
Another standard method to repair corrupt video(s) is to use DJIfix software. It is most useful when repairing corrupt video(s) made using Spark, Phantom, DJI Inspire, and Mavic Mini. It uses DJIfix command line can be used on Windows and Mac for free by using the following simple steps:
Windows
Use the recommended link available online to download the DJIfix software setup and save it in the same folder as the corrupt videos.
Use Command Prompt as an administrator to use the cd command. Using this command, change the directory to the folder where DJIfix setup and corrupt videos have been saved.
Type the command: "djifix [corrupt video file name along with .MP4 or .MOV extension]"
macOS
Download the DJIfix setup and save it to the movies folder.
Go to the Utilities in Terminal and select the Application folder.
Type the command on the Terminal;
cd Movies
chmod+xdjifix
./djifix [corrupt video file name along with .MP4 or .MOV extension]
Part 3:  Repair Corrupt DJI Video Files with Wondershare Repairit
With an excellent track record of repairing corrupt video(s), Wondershare Repairit comes with great features and easy-to-use tools. It can be used to repair corrupt DJI video(s) online as well as on the desktop.
This program is available in two versions: Repairit online and Repairit for desktop for both Windows and Mac. The Repairit online version is free of cost. Very user-friendly and requires no sign-up. It can repair up to 200 Mb video files online.
Repairit for desktop is available for Windows and Mac. It has powerful repair technology. It can repair many corrupt high-definition videos within minutes and in one go. There is zero restriction on the file size either. Commons video formats supported include MOV, MP4, M4V, 3GP, AVI, FLY, M2TS, and MKV. It can easily fix videos from your storage devices like SD cards, USB drives, computers, DIJ cameras, mobile phones and provides previews of the repaired videos in various formats.
Download Repairit for desktop or Mac, run the setup and wait for the installation to finish. Now double click the Wondershare Repairit icon to launch the program and start repairing your DJI videos right away.
Step 1- Add Videos: Click the "Add" icon and select the source of the corrupt DJI video. You can select multiple videos too.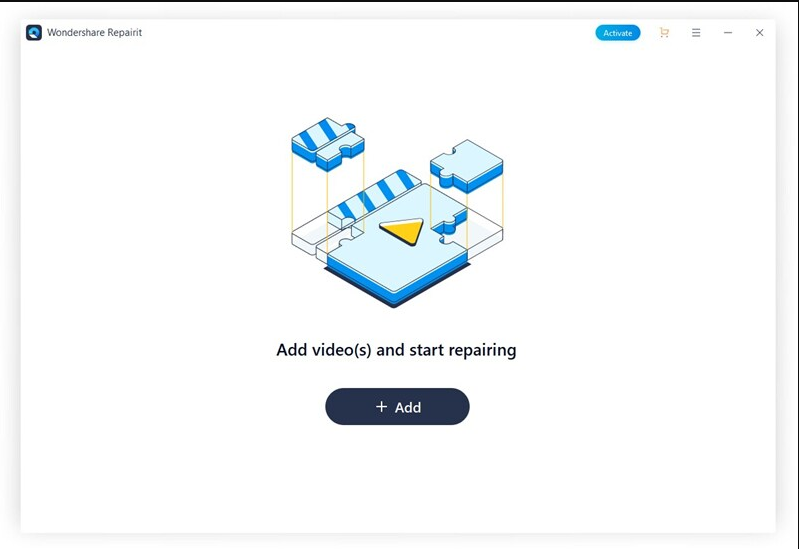 Step 2- Repair Videos: Once the video is added, click on "Repair" to instantly start repairing your damaged and malfunctioning videos.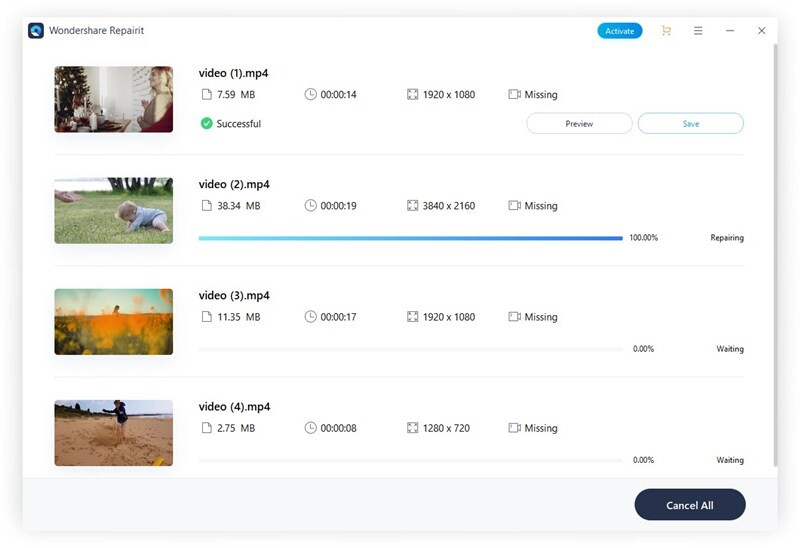 Step 3- Preview and Save: Once the repair has been done, time to preview your video and finally transfer it to your desired destination.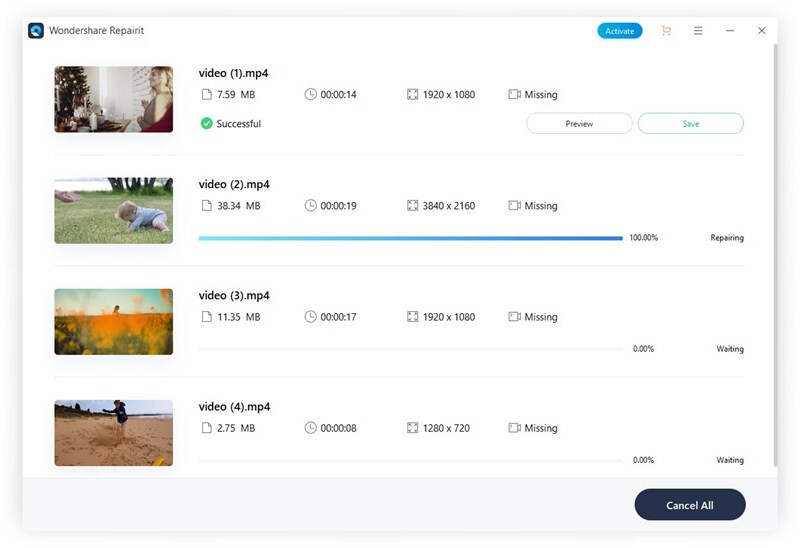 Part 4: Tips to protect video files
Repair of damaged, broken, and corrupt DJI video files with Repairit has never been easier, all thanks to its user-friendly interface. But as they say, it's better safe than be sorry. You need to be more cautious to avoid your DJI videos from getting corrupt. These are a few precautions that you could follow:
Always use an up-to-date antivirus and malware program in your system and DJI drone cameras.
Try to keep your device sufficiently charged and use trustworthy high-quality batteries to prevent abrupt device shutdowns.
Always keep a backup of your DJI videos before editing or exporting them to another device.
Use a file converter if you want to change any file extensions. Avoid editing it manually.
Make sure to use superior quality SD cards.
Protect your device from excessive heat and extreme cold temperatures.
Ending Note:
So, if you should repair corrupt videos, such as repair mp4 videos. you know all the tricks and techniques. However, the most important of them all is Wondershare Repairit. It can work magic for you and is nothing less than a lifesaver. With quick and easy-to-use features, you will never have to worry another day about losing your videos. Feel free to go to any extent to make beautiful videos with your Drone Camera without having to worry about losing it all to a few careless mistakes. Repair and recover all your priceless videos for free.
Also Read: How to Scale a SaaS Company Sales
Related posts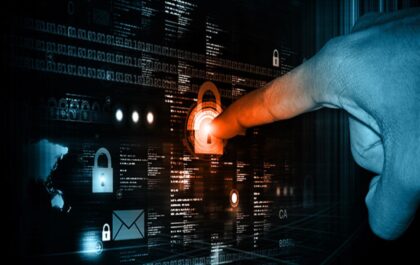 How to Protect Your Server Against DDoS Attacks
Against DDoS Attacks: Everywhere you turn, it seems as though there's a new security threat lurking on the World Wide…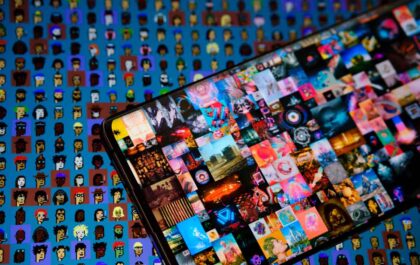 What Are The Factors Considered In Pricing NFTs
The NFTs or Non-Fungible Token are fast becoming a haven for artists looking to carve a niche by selling directly…