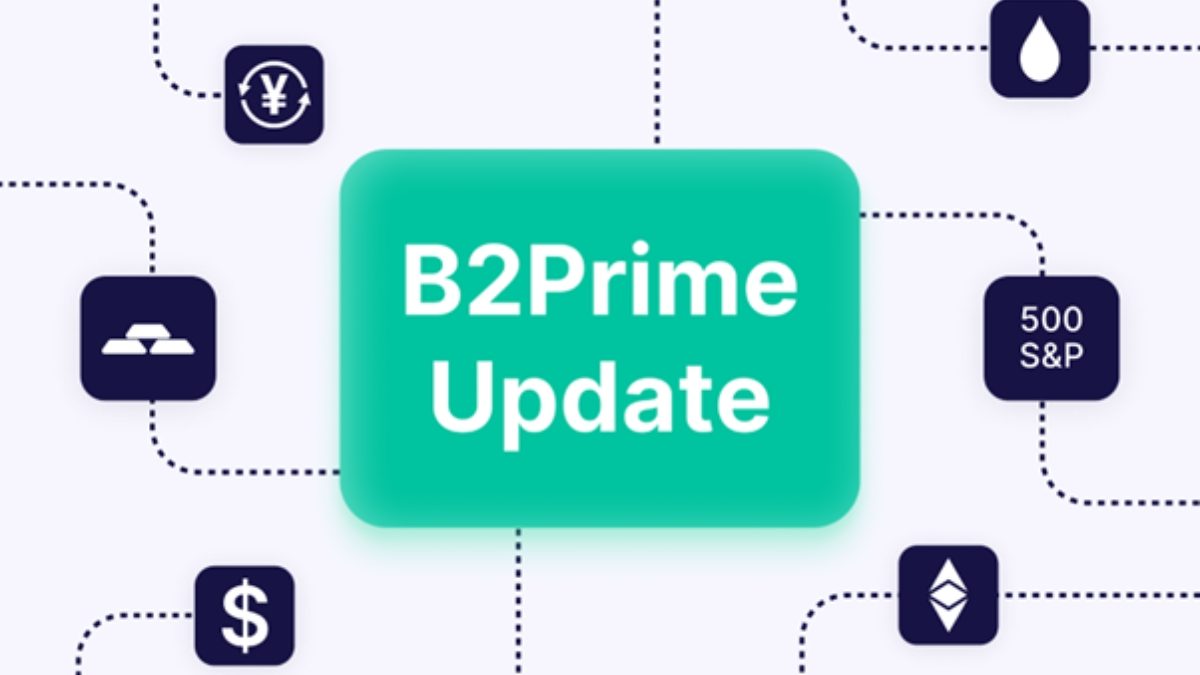 Having built a reputation as a global provider of multi-asset liquidity, B2Prime constantly commits to meeting the needs of its clients and setting industry benchmarks. In addition to continuously improving the company's product offering, compliance with legal standards was enhanced, liquidity offerings were expanded, and leveraging options were improved. Additionally, the company is pleased to announce its newly redesigned website, which complements these strategic enhancements.
In conjunction with these changes, B2Prime Transformation is demonstrating its commitment to innovation, transparency, and providing high-quality services to its clients. Let's take a closer look.
Regulation – Developing Trusting Relationships and Assuring Compliance
In order to ensure trust and reliability for their clients, B2Prime is committed to regulatory compliance. Therefore, improved regulations have been expanded by the company in a significant manner.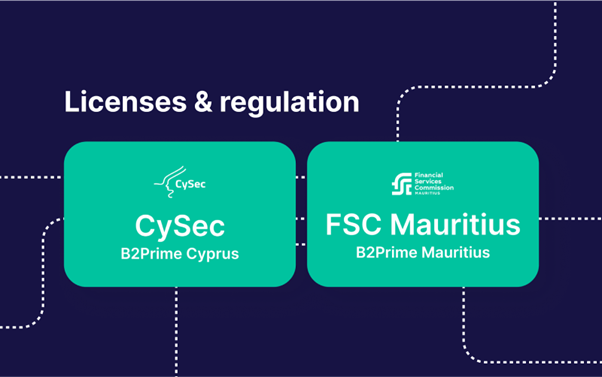 B2Prime Cyprus (CySec)
Europe's institutional market players, as well as corporate clients, specifically benefit from this jurisdiction. The option to offer a wide variety of crypto CFD pairings and uncommon instruments like NDFs and natural gas is now available to licensed brokers all over Europe, including those in Cyprus. This supplier is a dependable EU-regulated liquidity source. Additionally, B2Prime Cyprus is permitted to accept corporate and institutional clients from nations outside the European Union, including but not restricted to Malaysia, the Cayman Islands, Hong Kong, India, Indonesia, Kuwait, and Vietnam. Here is a complete list of countries.
B2Prime Mauritius (FSC Mauritius)
With the addition of B2Prime Mauritius, the company has expanded its business beyond the European market to serve institutional and corporate clients in other regions. Moreover, a new settlement flow solution has been introduced for this jurisdiction. In addition to fiat currencies, digital currencies (major coins plus stablecoins) are now supported for deposits and withdrawals to margin accounts, including platforms such as OneZero and Prime XM. Rather than relying on offshore liquidity providers who lack transparency and stability, this offer is targeted at brokers who prefer a fully regulated liquidity provider. The system provides the option to use digital currencies for settlement for those who are unable to deposit fiat currency via a bank account. Thus, licensed Mauritius-based brokers can now gain access to crypto CFDs, NDF CFDs, and a range of other CFDs by collaborating with a liquidity provider within the same jurisdiction.
A harmonised approach is adhered to by both B2Prime Transformation Cyprus (CySec) and B2Prime Mauritius (FSC Mauritius), operating under two jurisdictions. The company's commitment to openness and uniformity across all of its products and services for the customers is shown by the fact that both jurisdictions use the same website and commercial offer structure.
Greater Variety in Liquidity Options
Having recognised the importance of a multi-asset liquidity offering, the company is passionate about the availability of its extensive range of instruments, which can be accessed through a single margin account. A distinguishing feature of this platform is the availability of 24/7 streaming liquidity for 93 crypto CFD pairs. The company is pioneering an unparalleled liquidity offering among all EU-regulated liquidity providers, with FIX API accessibility on renowned platforms such as OneZero and PrimeXM, and competitive margins on major Crypto CFD pairs.
B2Prime offers the following comprehensive instrument suite: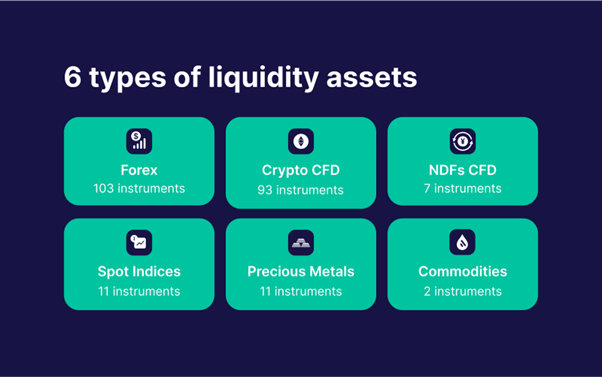 As a result of this unprecedented offering, users will be able to maximise their capital efficiency, giving them a distinct competitive advantage over their competitors. By using a multi-aggregation model, B2Prime is able to provide the most competitive spreads in the market and, at the same time, maintain the most affordable financing charges.
It is noteworthy that offering NDFs as CFDs represents an innovative approach and is not commonly seen in the industry as a whole. Furthermore, margin requirements were reduced on 10 additional crypto CFD instruments. With these changes to the margin requirements, the company now applies only 10% margin requirements and 1 to 10 leverage to brokers. Reducing margin requirements enables brokers to access greater exposure with less upfront capital, highlighting the company's commitment to offering a wide range of liquid securities.
New Distribution Techniques
The distribution methods employed by B2Prime Transformation determine how the company provides its solutions. As the company serves numerous financial institutions worldwide, it requires exceptional technological proficiency. B2Prime's team is dedicated to delivering high-quality institutional liquidity across multiple asset classes, supported by advanced technology solutions for aggregation and distribution. The company's offerings include renowned technology vendors like OneZero and Prime XM, which clients can choose to utilise. Furthermore, B2Prime can enhance the liquidity of any FIX API-compatible solution.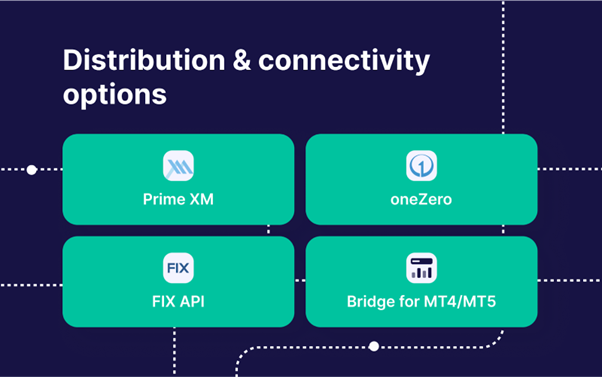 Brokers using MetaTrader can benefit from B2Prime's Bridge Gateways for MT5 and Bridge Plugin for MT4. Bridge Gateways can be accessed via native OneZero/PXM solutions or through Hub-to-Hub connectivity for those already having any Trading Liquidity Hubs in place.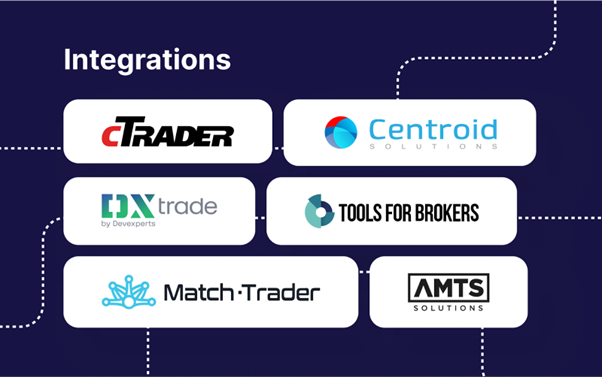 Through the FIX API standard, the company has also effortlessly linked with platforms, including cTrader, Centroid HUB, T4B Trading engine, YourBurse Hub, Match-Trader platform, DXTrader platform, and FxQubic Bridge. A single prime margin account can be active in just one day after a broker has finished onboarding with B2Prime. This includes access to all pairs that are available and the whitelisting of IP addresses in accordance with the company's specification list.
Conditions with Extremely Low Margin Requirements
Specifically designed to provide clients with a competitive advantage at the most cost-effective price, B2Prime's multi-asset liquidity terms of business include the following:
Setup of a Prime Margin Account is free.
The minimum monthly liquidity cost is $1,000 (including one Hub to Hub or FIX API connector).
The monthly price for an optional MT Gateway or Bridge: $1,000.
The minimum deposit for an account is $10,000, which can be used for trading purposes.
According to the volume traded, the mentioned charges will be offset by aggregated monthly commissions.
To learn more about commissions on B2Prime's instruments, please leave a request.
B2Prime's Website: What's New?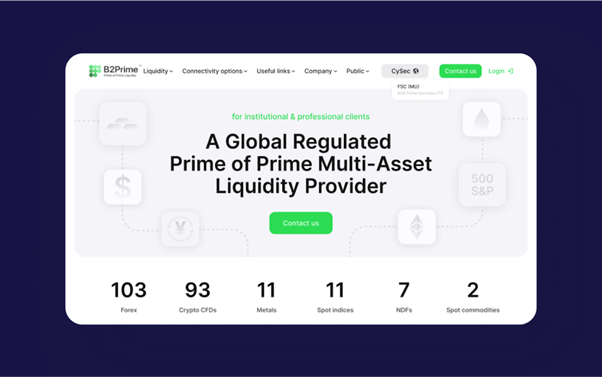 Additionally, the company has enhanced its service offering and completely redesigned its website to reflect its industry-leading institutional liquidity portfolio. Each update has been implemented in a manner that optimises functionality and content presentation in order to maximise user experience. The new layout is structured for clarity, making navigation easy and quick.
These are some of the new features that have been introduced or redesigned by the company:
Visual Air Reduction – To ensure a more focused, clutter-free experience, the website was streamlined by minimising visual distractions.
Compact Blocks – All blocks have been optimised, removing duplicate data while preserving the essence of the content. The result is a concise, well-written block that enhances both readability and navigation.
Location-Based Redirection – Website visitors are now intelligently redirected to the company's main page based on their geographic location, which is not only beneficial to users but also assists the company's sales team in identifying the source of leads.
Header & Footer Revamp – To ensure swift access to critical links and information, the company has modernised its header and footer to be more compact in accordance with the latest UX/UI standards.
The changes provide a better understanding of the company's offerings and values in a more streamlined manner.
A New Chapter in B2Prime's Evolution
Due to the new and improved regulatory compliance frameworks that have been implemented, B2Prime Transformation is an industry model for reliability. The company's distinctive advantage is its broad spectrum of liquidity options, especially its unmatched selection of 93 Crypto CFD pairs. As a regulated liquidity provider tier-1 in the industry, the company provides 24/7 access to these pairs at competitive leverages of up to 10% for major ones. Yet another example of the company's innovation and excellence can be seen in the newly redesigned website.
During the iFX Cyprus Expo, the company will further demonstrate its dedication to the industry. B2Prime Transformation will present its latest innovations and comprehensive offerings at this exclusive conference. This conference will be attended by the most accomplished professionals in the industry.
Related posts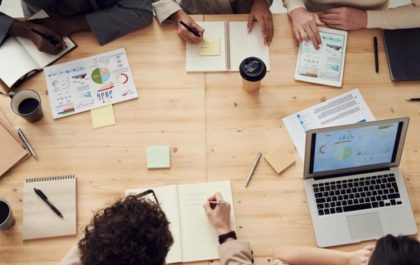 How to Plan a Project That Is Guaranteed to Succeed
Planning and executing a successful project can be a challenging task, especially if you have never done it before. But,…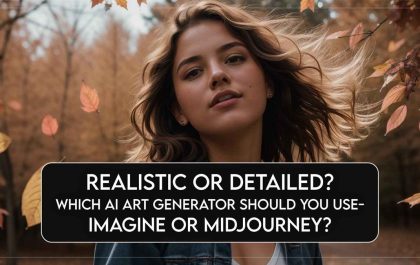 Realistic Or Detailed? Which AI Art Generator Should You Use – Imagine Or Midjourney?
Setting the Stage for AI Art Generation Artificial intelligence (AI) art generation is a rapidly developing field with the potential…