Of late, we have to protect our children on the playground and online. Online threats and cybercriminals pose a crucial risk to your kids. Responsible parents should invest in their child's safety and cushion them from harm. One of the latest ways to do this is to track kids iPhone usage using the best app/software available. With a reliable app, you can monitor their whereabouts, including current location, SMS sent, social network posts, photos, etc.
To be effective, you need the right app/software that tracks your kids iPhone activities without them knowing. In this guide, we present the best parental control app to track your child's iPhone.
Part 1: How to Track My Kids iPhone Activities in 2020 
Once you do a brief online research on iPhone monitoring apps, you'll encounter hundreds of them out there. So, which one can you actually rely on, considering most of these solutions are free?
When it comes to pure effectiveness, these alleged "free" apps trail sorrily behind. Most of them are faulty products that will waste your time. Instead, we recommend software that you may need to purchase a subscription plan; yet it'll get the job done.
Why Should I Use TeenSafe? Is it Trustworthy? 
For parents looking to track their children's iPhone activities, you won't find any better solution.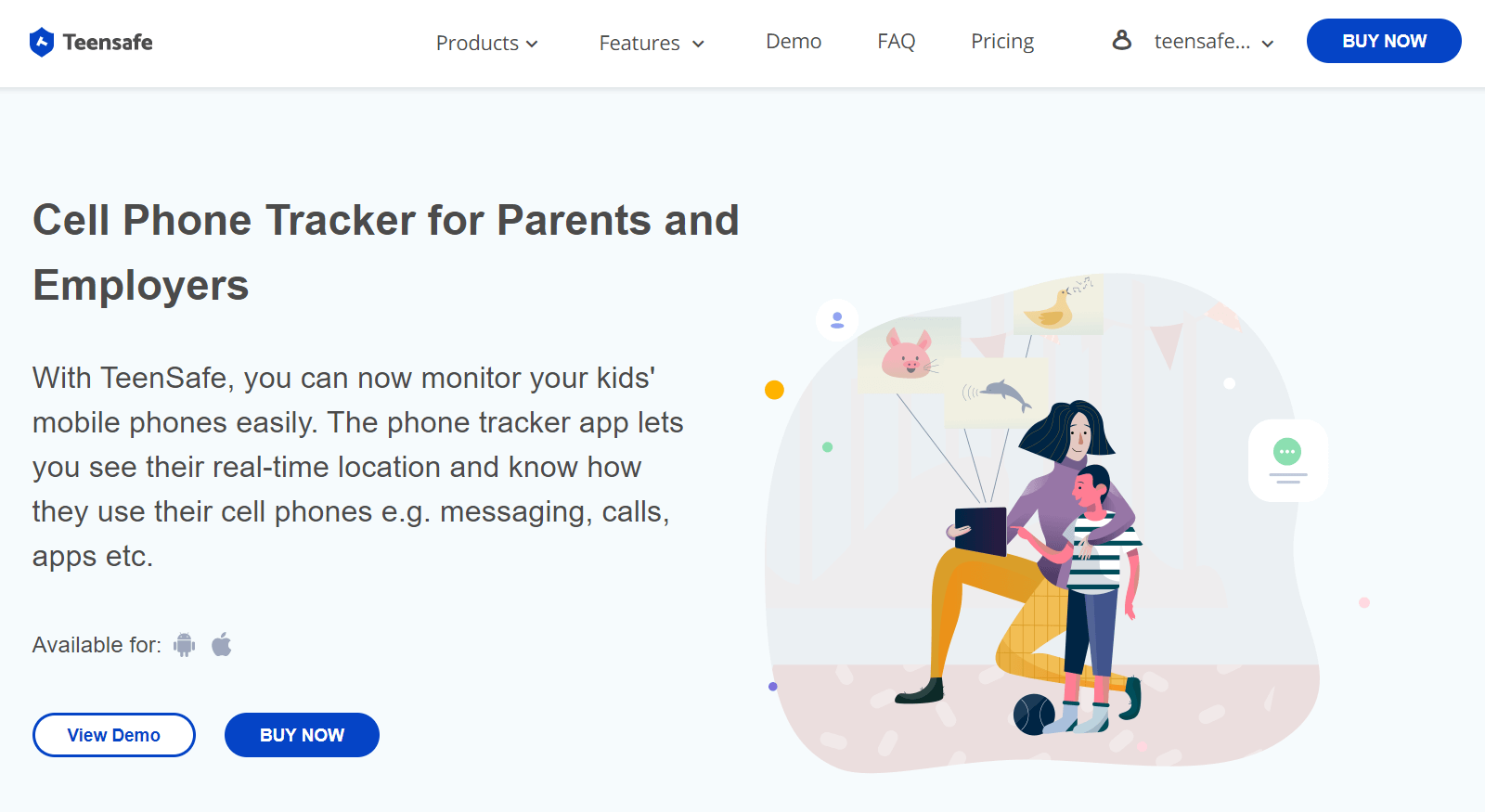 We're talking about a prominent and reputable app like TeenSafe. This is a parental monitoring system that leading world publications, including MacWorld, PCMag, and mashable, often talk about.
TeenSafe is the best all-around surveillance package for your child's iPhone. It contains a whole range of features and, most importantly – it's discreet. All of the features are entirely functional once you sign up, set it up, and monitor kid's iPhone activities.
So, how does this tracking app work, and what are its perks compared to the competitor? Well, first of all, it works. A common barrier in monitoring your kids iPhone activities is that children never leave their phones out of sight.
Luckily, TeenSafe allows you to track your kids iphone directly from your own gadget. You don't need to install any app on the child's iPhone. It's web-based; therefore, it's virtually undetectable from the target user. You can access your online account from any web browser.
To get started, all you need is their Apple ID and password. Then TeenSafe app will establish a remote connection with the iCloud server, enabling retrieval of data from the server. The iCloud backup feature saves your child's phone usage.
By now, you know physical access to the kids phone is out of the equation.  However, you'll be happy to discover that there's no need to jailbreak the device before tracking it. And that's crucial since jailbreak is not only tricky but also a threat to security.
TeenSafe guarantees 100% privacy and data safety with regular updates, meaning you get to real-time updates on your control panel. It's the most reliable and trustworthy iPhone tracking solution. Even millions of its users worldwide rely on it in every field.
Also Read: How to Sign a Document on Your Phone or Computer?
Part 2: What Exactly does TeenSafe Provide to its Users? 
TeenSafe offers tons of exciting features so that parents could easily track and monitor their kid's iPhone. Let's look at some of the main features TeenSafe has installed for us:
Location Tracker  
Ever wish you could track your child's movement all the time? Using the TeenSafe GPS map tracking feature, you can view the kid's physical location as well as their location history. It gives you an overview of all the places visited with their timestamps.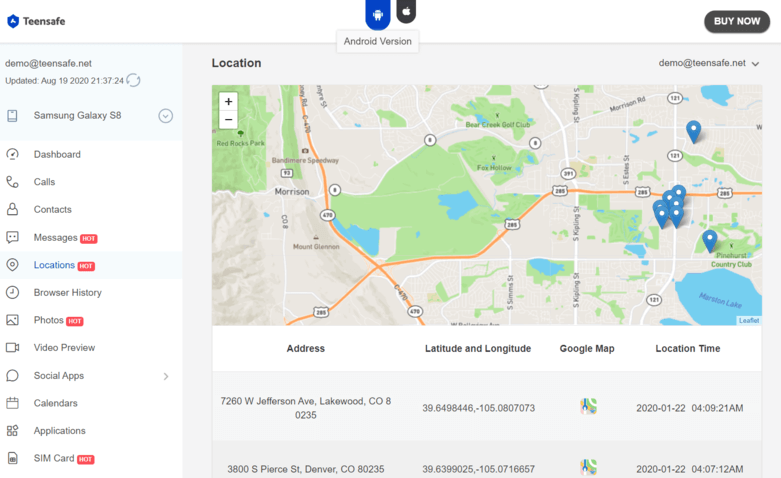 Geo-fencing
Geo-fencing allows you to set up safe areas for your children to roam on their own. When the target phone crosses these boundaries, you'll get alerts. Hence, it ensures your kids don't wander away from home or school.
Browser History Monitor
View your kid's browser history through TeenSafe and monitor all the sites they're visiting. Prevent your child from accessing inappropriate content and adult websites by creating restrictions on specific sites.
Social Media Monitor
TeenSafe equipped with modules that enable you to keep tabs 24/7 on the kid's iPhone. See how much time your kid spends on Facebook, Instagram, WhatsApp, and Snapchat. You can track their chat details, shared photos and videos, friends, and more.
Call Tracker
You might wonder who your kids are talking to. Maybe someone is bugging him/her, and they don't share it with you. With TeenSafe, you can listen to any call made to and from the child's device, live or recorded. Each call includes name, phone number, duration, and date.
Also Read: How to Spy iPhone Remotely & Effortlessly
Part 3: How to Track My Kid's iPhone Activities in 2020  
Tracking iOS using TeenSafe is as easy as ABCD. All you need is an active email address, PC/phone, and reliable internet connection. Follow the below steps carefully:
Step 1:  Visit the TeenSafe official website and sign up for an account. Proceed to purchase a subscription plan for iOS devices.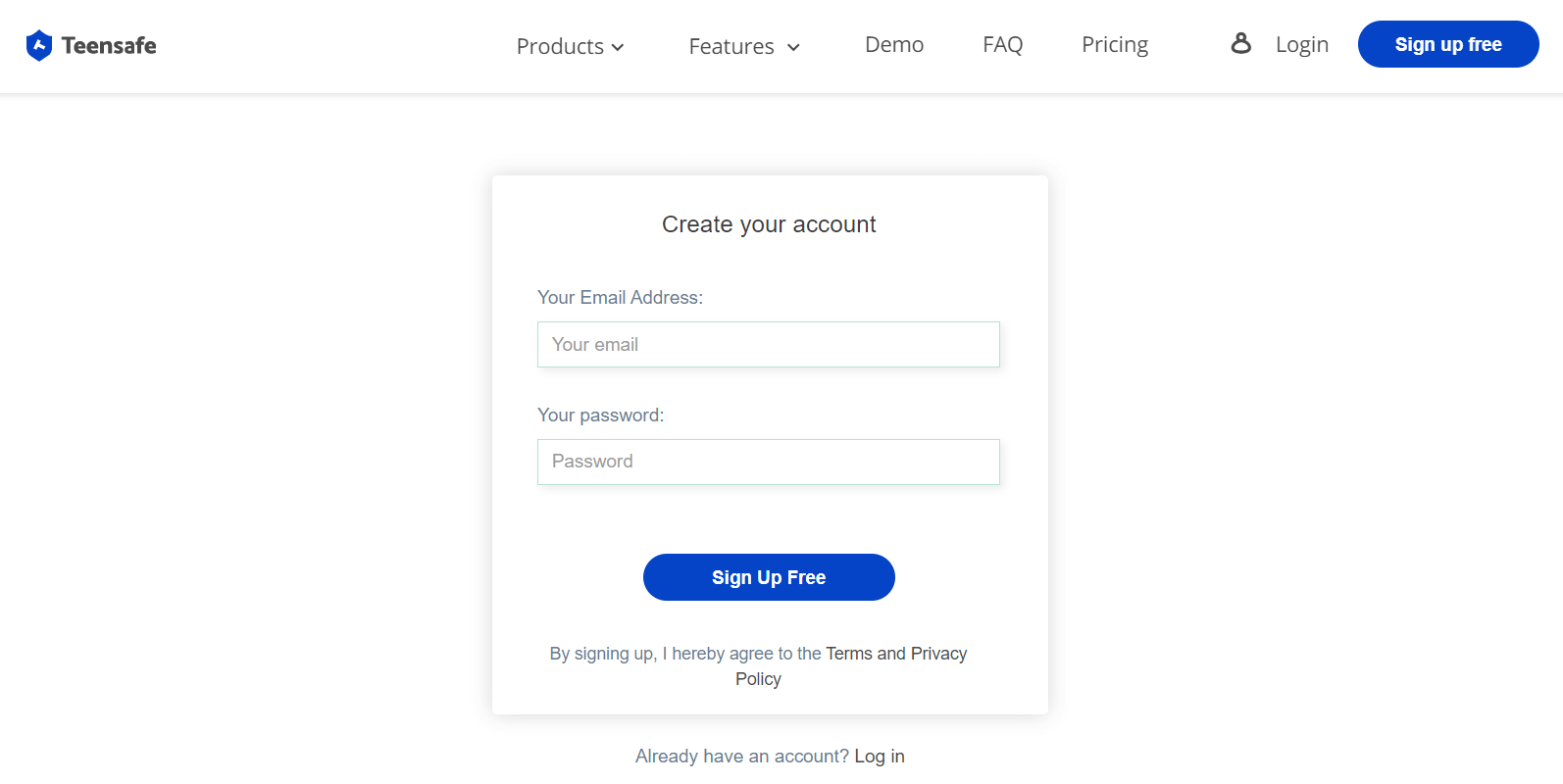 Step 2:  You'll receive a confirmation email.
Click on the "Start Monitoring" button, which leads to the setup wizard. Key in the kid's name, age, and select device OS as iOS.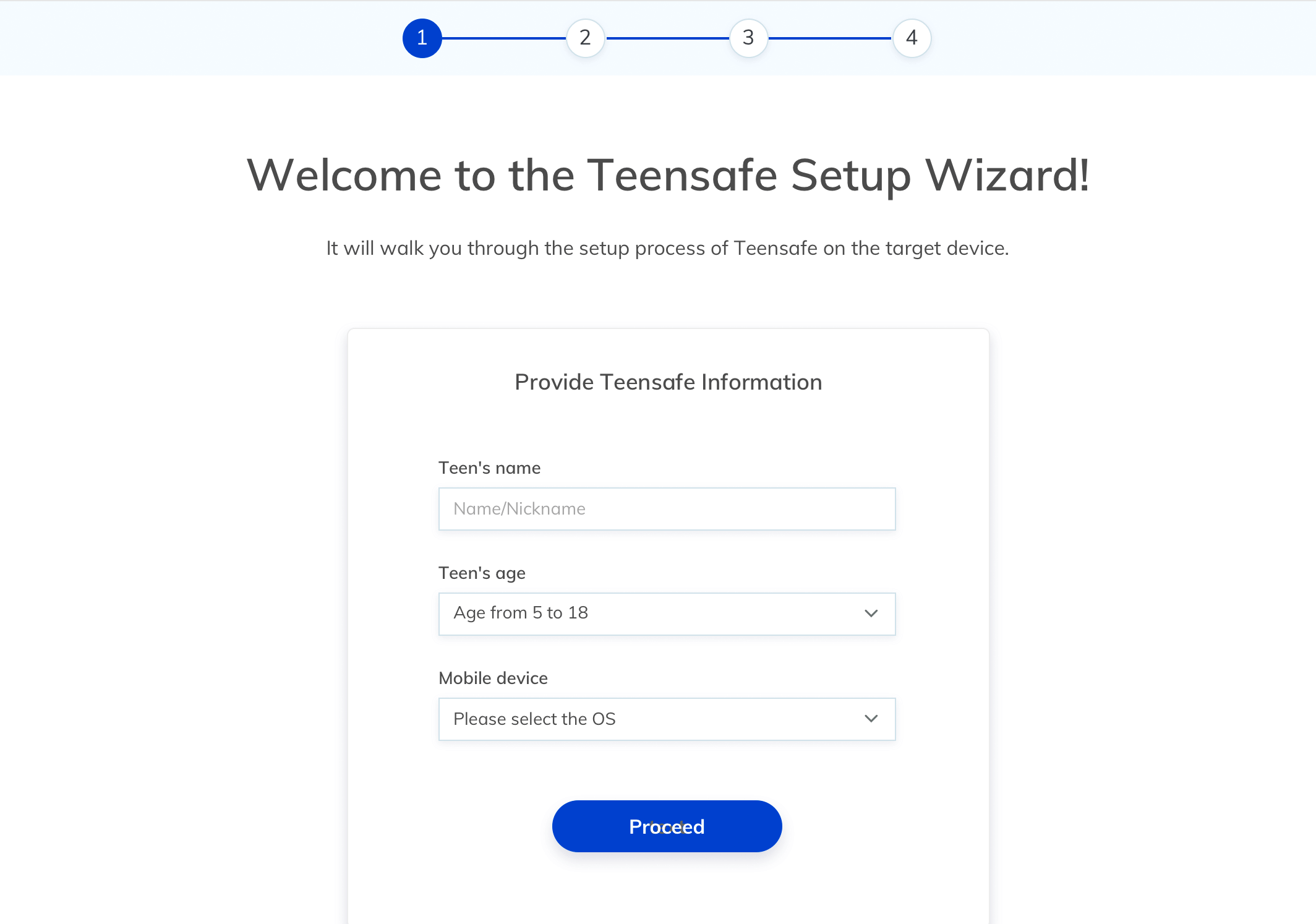 Enter your children's iPhone credentials to configure the software to work with an iCloud backup.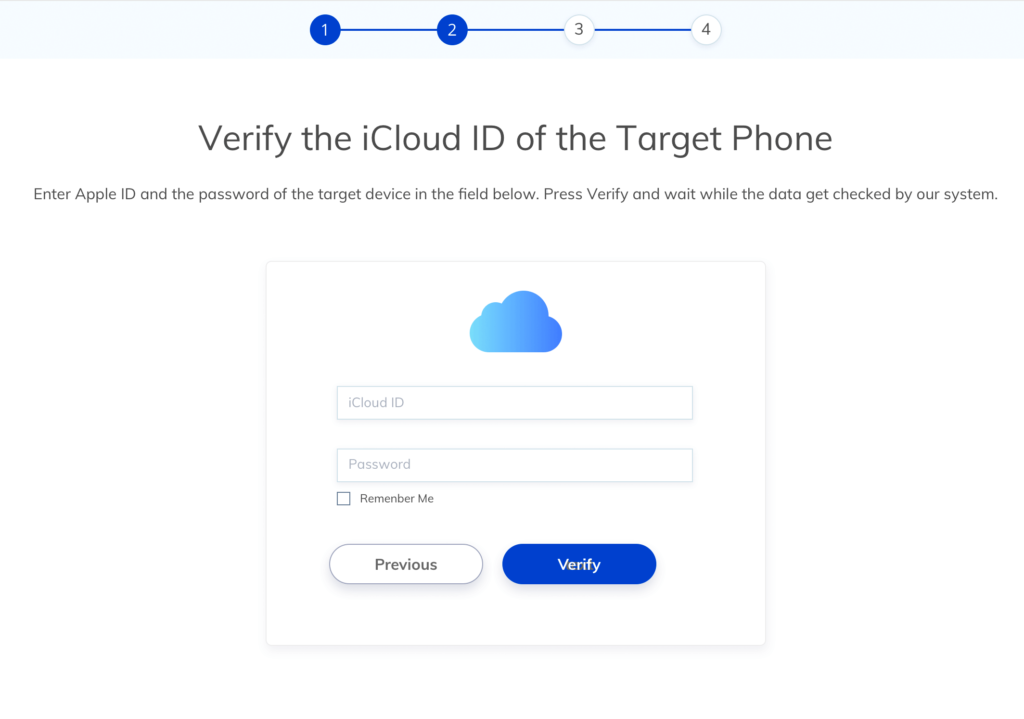 Advance to the next step and select the child's device whose backup link to the iCloud ID.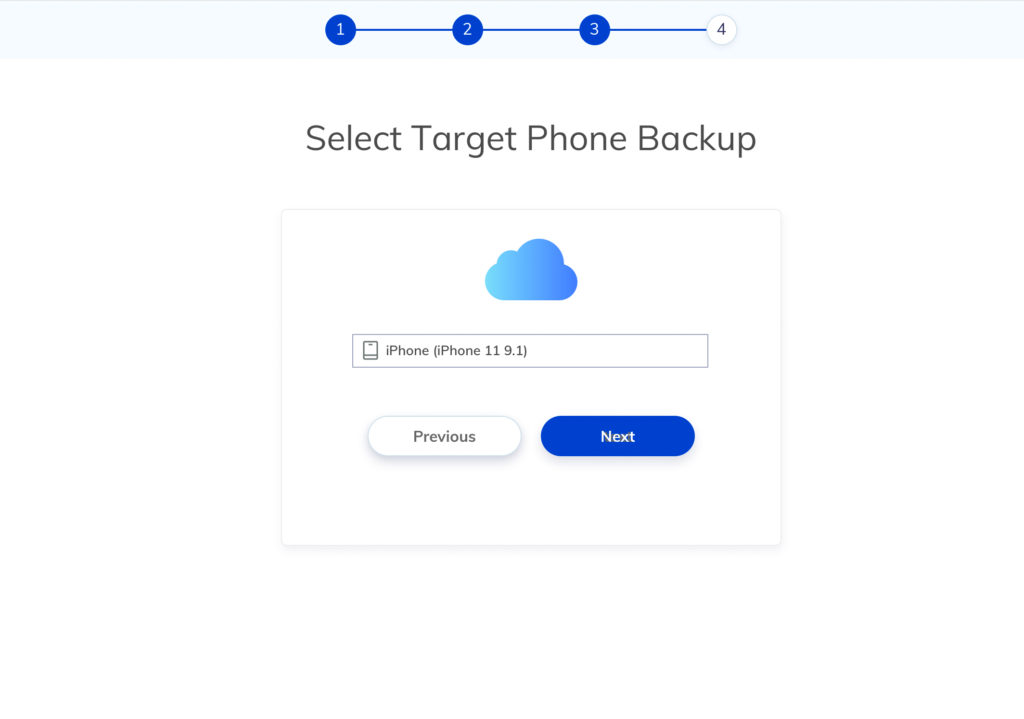 Step 3:  Once the setup is over, wait for the software to sync data. Hit the "start monitoring" button to access the TeenSafe dashboard. Use the drop-down menu on your left-side to access various features.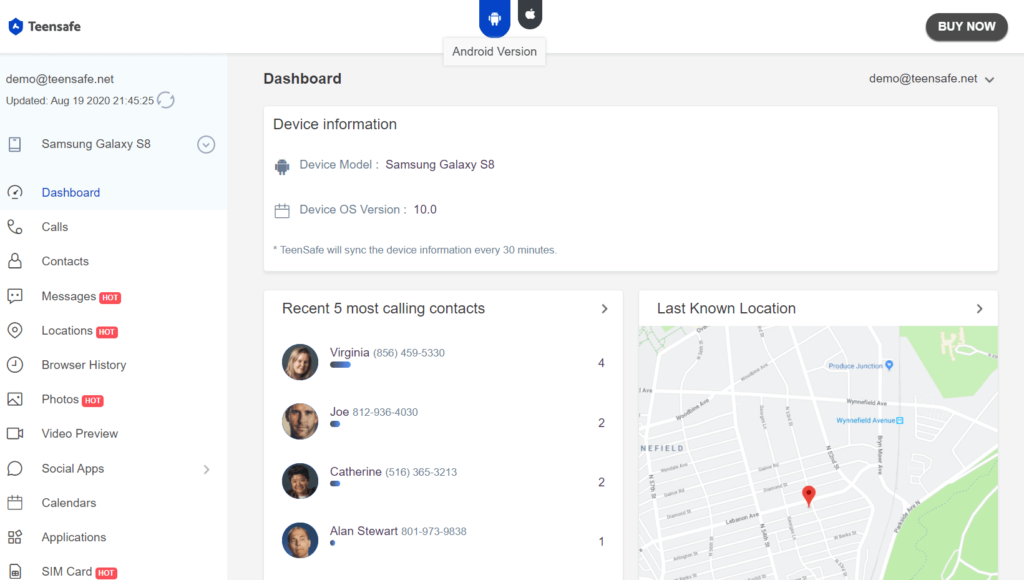 Part 4: The Benefits of TeenSafe
No Jailbreak: TeenSafe doesn't need you to alter your kid's device; hence no special skills are required. Also, the device warranty and functionality remain safe.
100% Discreet: No app download whatsoever. It works in stealth mode using the iCloud backup feature. All you need is an internet connection.
Intuitive Interface: You can open TeenSafe using any web browser. The interface is quite user-friendly, offering a straightforward solution to monitor kids.
Reliable: TeenSafe subscribers assure that you can rely on getting real-time updates on kids' whereabouts anytime and anywhere.  There's no threat of viruses or malware.
Comfortable Pricing:  There are various plans available according to your requirement. TeenSafe price packs are considered very affordable, worth every dollar.
Conclusion 
With the development of cutting-edge technology, TeenSafe provides powerful features to track your kid's iPhone activities remotely. You don't have to limit your child from using a smartphone anymore. You can now track their phone activities to ensure they're not indulging in inappropriate behavior.
TheITbase
TheITbase gives tech help to Audience. Learn how to utilize Technology by How-to guides, tips and also you can find cool stuff on the Internet.
Related posts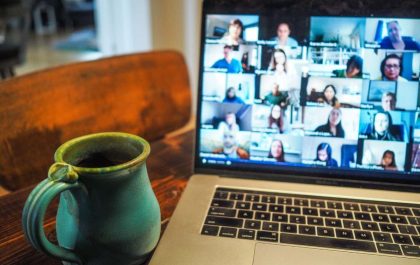 A Guide on How to Stay Secure When Studying Online
As online learning becomes increasingly popular, it is crucial for students to prioritize their security and privacy. Cyber threats are…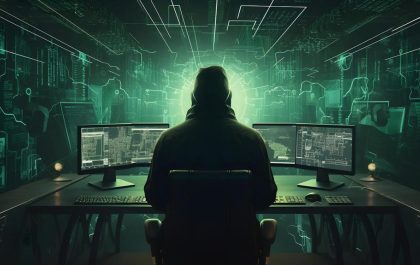 Cybersecurity's Blind Spot: Understanding the Scope of IP Theft in Healthcare and Pharmaceutical
Anastasios Arampatzis In the rapidly evolving landscape of the healthcare and pharmaceutical industries, intellectual property (IP) stands as the foundation…