With the growing world, demands for enhanced and advanced resources are a common thing. Website hosting demands higher resources.Reseller Hosting with WHMCS empowers a smooth and flexible site hosting experience. A Businessperson and a site owner need higher resources when their business starts outgrowing. So it is difficult to manage them with an admin. Therefore, WHMCS is for you. To get the best Reseller hosting services, you should have the best provider who provides you with technology and advanced featured Reseller hosting with WHMCS. Reseller hosting is the best type of web hosting, which includes unlimited advantages including responsive server, high traffic range, rock-solid security, regular monitoring and many more.
Here in the blog post, we will discuss the WHMCS, its introduction, features, and many more. It ensures how it is best and ideal for your business hosting.
What is WHMC?
WHMCS is referred to as the Web Host Manager Complete Solution that used to run the free WHMCS reseller hosting smoothly. It is the best billing tool that makes your task easier and efficient through its automation technique. Also, it puts in the complete control so you can effortlessly work with the job you want quickly.
WHMCS is user-friendly billing software that accomplishes your website in several ways. It helps the customers at many levels either from account set up, purchasing a hosting account, technical support, account suspension/termination to generate monthly revenue reports, and much more.
What is WHMCS used for?
WHMCS is an automation billing software that saves your money and time. Also offers an optimized and automated platform to manage the hosting securely. It efficiently operates online web hosting with ease. WHMCS provides a great end-user experience from its excellent services. If we talk about the WHMCS in simple words, then it is defined as the simple tool or software to run your website smoothly on a large platform.
Why is WHMCS Essential for Reseller Hosting?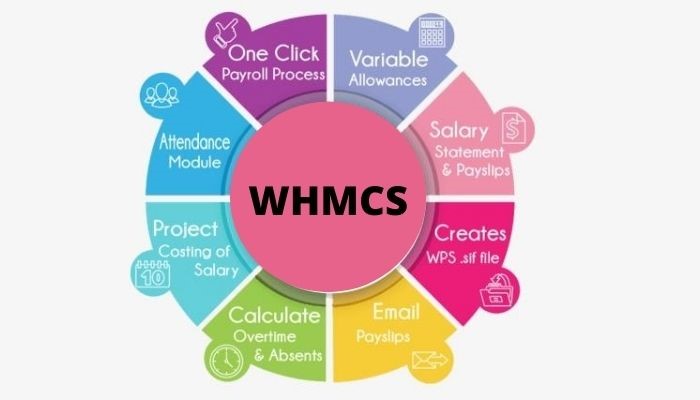 WHMCS is an automated billing software best for Reseller hosting as it makes life easier and smooth. It automatically fetches the payments and helps in handling the hosting related services. The Cheapest Reseller Hosting with  WHMCS offers you the wholly stable and best environment to host your site with ease.  When your site goes down and affects the ranking and reputation, then the solution is WHMCS. It generally stands for Web Host Manager Complete Solution.
WHMCS is best for reseller hosting. It offers the ultra-reliable hosting services with 100% uptime to improve the site performance. It also boosts your website and provides a blazing fast server featuring up to 20X faster page loads than the rest of the web hosting providers.
 WHMCS Reseller Hosting Plans
It is best to look at the pricing table to opt for the WHMCS Reseller Hosting at an affordable price. So you get whether you get such best and superior services rather than the Wisesolution.   Below is a table; you get what services at what plans, pricing, and features are best for your business hosting.
Also Read: Some Indicators that You Have Outgrown Your Web Hosting
| | | | |
| --- | --- | --- | --- |
| Plans | WHR-1 | WHR-2 | WHR-3 |
| Price | ₹1350 / Mo | ₹1550 / Mo | ₹1750 / Mo |
| Disk Space | Unlimited SSD | Unlimited SSD | Unlimited SSD |
| Bandwidth | Unlimited | Unlimited | Unlimited |
| Email Accounts | Unlimited | Unlimited | Unlimited |
| Domain Host | 100 | 200 | 300 |
 Benefits of having a best WHMCS Reseller Hosting
Reseller Hosting free WHMCS is best and secure. It is a complete automated billing solution for your online business hosting. You can access multiple resources at a time without efforts such as the web hosting industry, IT service companies, agencies, and much more. You get the number of reliable and flexible benefits with the Cheap Reseller Hosting with WHMCS. Some of them are listed below:
Easy Shopping cart functions
Automated Billing
Insights and Detailed reporting
Ability to Resell your products
Client facing control panel
Easy Administration
Handle integrated solutions
Allow to install and run WHMCS with existing software
Best WHMCS Reseller Hosting Key Features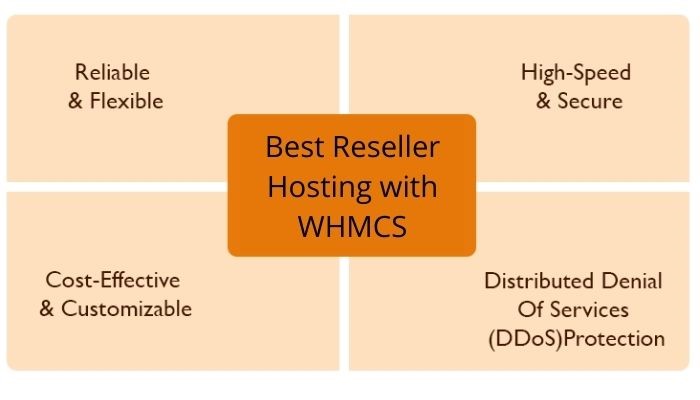 Are you also looking for the Best Reseller Hosting with WHMCS? You are standing on the right platform. The wise solution offers you the complete WHMCS Reseller Hosting package with rich in features hosting. It is also best to explore your business across the globe and makes your management more effortless.
The WHMCS software with your hosting means decreasing your more than half the workload in the hands of this automated tool. Therefore, look at the features and feel how the WHMCS, a computerized machine, makes your life easier and smooth.
Invoicing – Automated, and also you can manually manage the invoice system.
User – Friendly – Best user and graphical interface that is easy to use and offers a friendly hosting environment.
Payment Processing – Support easy and automated payment gateways that become easier to manage.
Support System – Best in offering excellent support that includes ticket system, escalation rules, and knowledge base.
Recurring Billing Charges – It is suitable and applicable for any billing cycle.
In-Depth Customer Profiles – Display the complete profile of a user that includes contact information, invoice paid, status, due invoices, and much more.
Comprehensive Reports – Complete site reports or statics in terms of monthly revenue and income predictions.
Quotes – It allows us to create the quotes and taglines for the valuable customers to convert them quickly in a click for invoicing.
Multilingual Support – It is best to get the perfect and down to earth support from Reseller hosting across the globe.
Promotions – It is best and suitable that set one-time, recurring, percentage off and fixed amount off discounts
Wrapping Up
At the end of the blog post, what you wish for a better result and conclusion. But before telling you about the outcome, you also analyze and become aware of the concept of WHMCS. You have seen what WHMCS makes and used for, what role it plays in hosting, and how it makes your daily life task easier.
It is the best platform that offers you smooth services and keeps you away from the hassle task. Reseller hosting with WHMCS platform makes you more comfortable to manage the online billing system automatically without any efforts. Hence, you can choose it with your reseller hosting plans for the excellent end-user experience.
Also Read: How Managed Application Hosting Saves You Time and Money
Hosting Renewals For WHMCS is now no longer a big task. You can renew the resources whenever needed as per your website demand and need. You don't need to stress that you have to contact your hosting provider and drop an Email to upgrade service. Also, as you know, we support the ticket system so you can raise a ticket for instant service.
I hope this article is helpful to you.
TheITbase
TheITbase gives tech help to Audience. Learn how to utilize Technology by How-to guides, tips and also you can find cool stuff on the Internet.
Related posts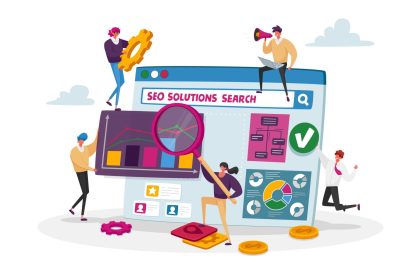 What Is Technical SEO?
In today's digitally-driven world, harnessing the power of search engines to improve your online presence is essential. One crucial aspect…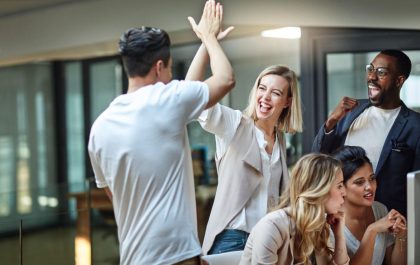 Winning at Work: Effective Strategies for Outstanding Performance and Costly Errors to Dodge
In order to succeed on a personal and professional level, one must do well at work. It necessitates the use…