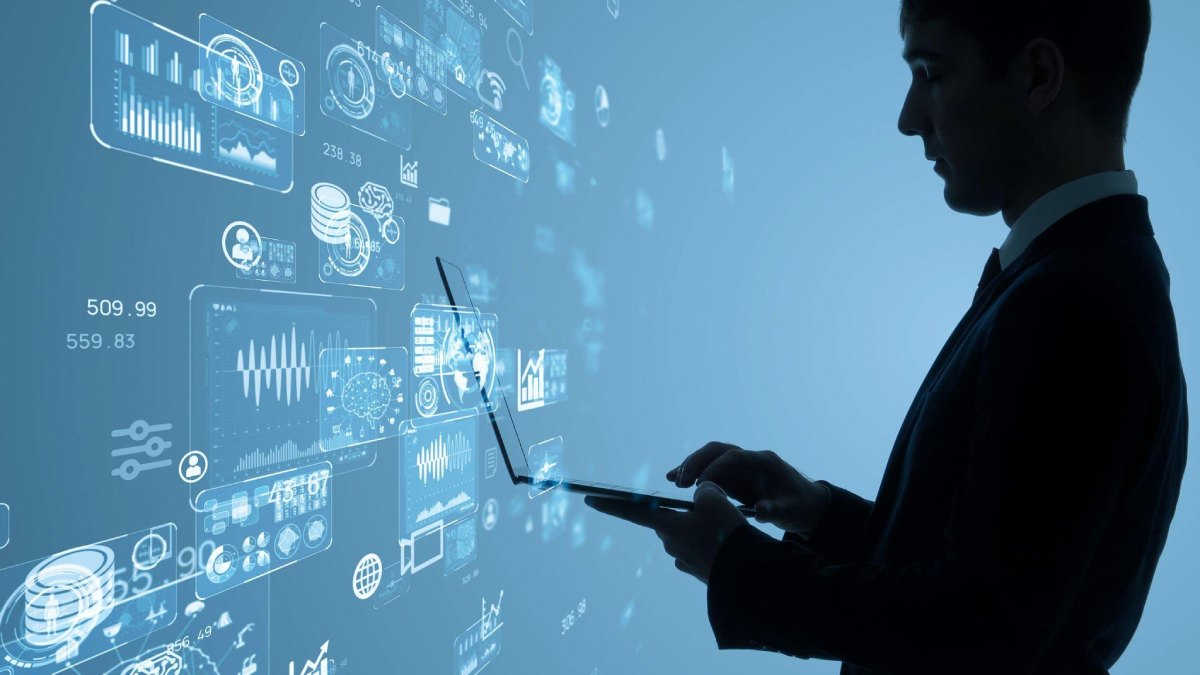 Flowchart are pivotal in visually depicting processes, workflows, and decision-making paths. The emergence of AI-powered flowchart tools, driven by technological advancements, has completely transformed the creation, modification, and sharing of these diagrams. These tools seamlessly integrate the capabilities of artificial intelligence with user-friendly interfaces, resulting in a swifter, more precise, and collaborative process. These AI-driven tools automate and optimize the flowchart creation process, making it faster, more innovative, and more efficient. This article will explore the significance of AI-infused flowchart tools and furnish a compilation of endorsed tools that can elevate and streamline your work processes.
Recommended AI Flowchart Tools
As the demand for intuitive and effective flowchart creation tools rises, developers have introduced various AI-powered options that cater to multiple needs. Here's a curated list of the top 5 AI flowchart tools that are making waves in the industry:
1. EdrawMax- A Streamlined Diagramming Tool
In the rapidly evolving landscape of technology and business processes, visual representations like flowcharts play a pivotal role in conveying complex ideas. EdrawMax emerges as a trailblazing AI-powered solution for crafting intricate flowcharts, offering a 360-degree perspective to tech researchers, bloggers, and professionals seeking optimal visuals for communication. As an AI flowchart tool, EdrawMax amalgamates precision with innovation, catering to the needs of modern creators.
Pros:
EdrawMax leverages AI to streamline flowchart creation, enhancing efficiency and accuracy.
With an extensive collection of templates, users can quickly start their projects and customize them according to their unique requirements.
EdrawMax's collaborative features enable seamless teamwork, allowing multiple stakeholders to contribute and review flowcharts in real time.
The tool enables the integration of interactive and dynamic elements within flowcharts, enhancing their visual appeal and engagement.
Cons:
Utilizing the full potential of EdrawMax's AI capabilities might require some learning, especially for those new to AI-powered tools.
While offering a free trial, EdrawMax's premium features come with a cost, which might be a consideration for individual users or small teams.
Supported Systems:
Windows
macOS
Linux
Web
Android
iOS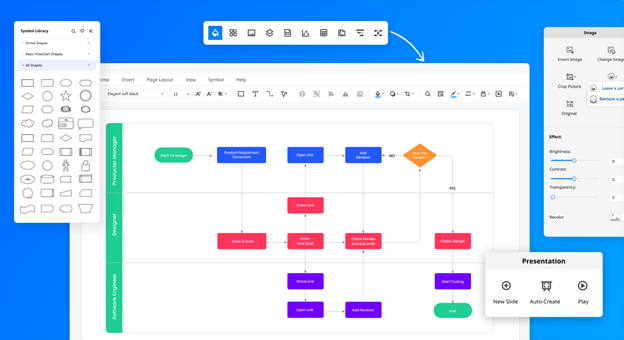 2. Taskade- A versatile online diagramming tool
Taskade signifies a paradigm shift in the way flowcharts are conceived and executed through AI technology. With its AI-driven efficiency and collaborative prowess, it offers unparalleled potential for tech researchers and bloggers alike. While users should consider challenges such as the learning curve and feature depth, Taskade stands as a powerful ally in crafting visually compelling and informative flowcharts.
Pros:
Taskade leverages AI to streamline flowchart creation, boosting efficiency and accuracy.
Foster seamless teamwork with real-time collaborative features, enabling multiple contributors to work simultaneously.
Access AI-generated templates tailored to specific needs, saving time and ensuring a solid starting point.
Create and collaborate on flowcharts across devices and platforms for unmatched flexibility.
Embed multimedia elements within flowcharts to enhance visual engagement and convey ideas effectively.
Cons:
Embracing Taskade's full AI capabilities might require some acclimatization, especially for those new to AI-powered tools.
While user-friendly, advanced customization and intricate features may have a learning curve.
Supported Systems:
Web Browsers: Chrome, Firefox, Safari
Mobile: iOS, Android
Desktop: Windows, Mac, Linux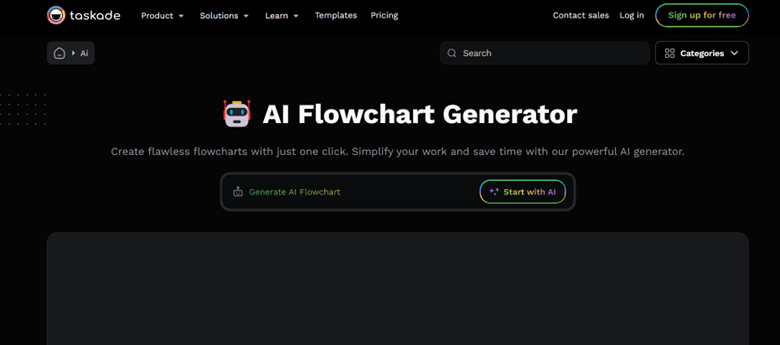 3. Miro- A Collaborative Online Whiteboard
Miro is an exceptional collaborative online whiteboard tool that enhances teamwork and creativity. Its intuitive interface and versatile features make it a top choice for various use cases. With its collective prowess and versatile tools, Miro empowers teams to visualize ideas seamlessly.
Pros:
Seamless real-time collaboration that fosters teamwork, ideal for remote work.
User-friendly interface and drag-and-drop functionality for easy use.
Wide array of templates and widgets for diverse tasks, from brainstorming to project planning. Seamless Integration with widespread tools like Slack and Microsoft Teams streamlines workflow.
Cross-platform compatibility ensures accessibility on various devices.
Cons:
Embrace a learning curve for first-time users adapting to the abundance of AI-powered features.
In extensive collaborative sessions, occasional lags might impact real-time updates.
Supported Systems:
Has dedicated apps for:
Windows
macOS
iOS
Android
In conclusion, Miro's transformative virtual whiteboarding experience enhances collaboration and creative thinking. Though initial complexity and performance hiccups exist, its impact on teamwork is undeniable.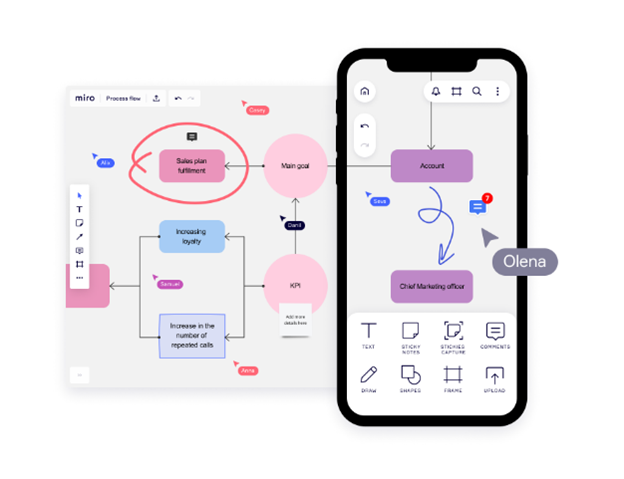 4. Chatuml- A Robust tool for Diagrams
As an AI flowchart tool, ChatUML offers an innovative approach to crafting intricate diagrams, catering to the needs of tech researchers, bloggers, and professionals seeking efficient and precise visual communication.
Pros:
Leveraging AI intelligence, ChatUML ensures precise and error-free diagram creation.
Real-time collaboration features facilitate seamless teamwork, enhancing efficiency and innovation.
Access a variety of AI-curated templates tailored to specific needs, expediting the creative process.
Integration with popular tools enhances workflow, allowing smooth transitions between applications.
Cons:
Limited exporting formats may impact compatibility with other software.
Managing complex diagrams with multiple elements might pose organizational challenges.
Supported Systems: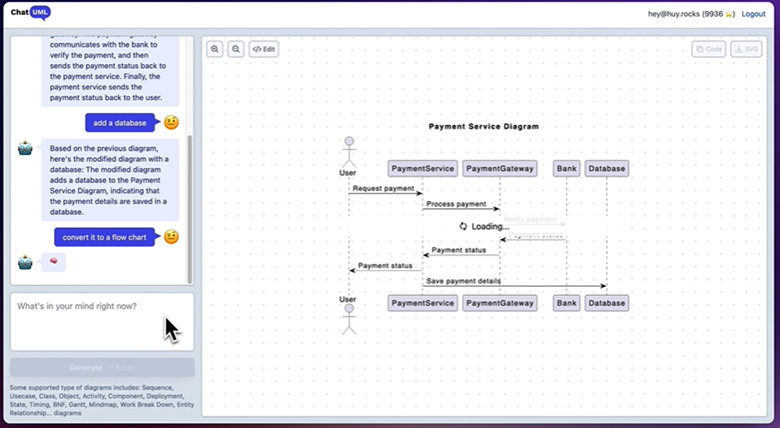 5. Whimsical- A Remarkable Visual Collaboration tool
Whimsical introduces a fresh perspective to flowchart creation by harnessing AI capabilities. Its user-friendly interface and real-time collaboration options stand out as prime advantages. However, users should consider potential limitations in customization and advanced features. As a valuable tool for tech researchers and bloggers, Whimsical reshapes the way flowcharts are designed and shared.
Pros:
Easy-to-use platform that requires a minimal learning curve.
A wide array of templates for flowcharts, mind maps, wireframes, and more.
Seamless teamwork with real-time editing and commenting.
Visually pleasing design that enhances the overall user experience.
Cons:
Some templates lack advanced customization options.
Advanced features are locked behind higher pricing tiers.
No dedicated offline mode for working without an internet connection.
Supported Systems:
Web-based platform accessible on
In conclusion, despite minor limitations, its user-friendly approach and polished design make it a standout choice for creative collaboration.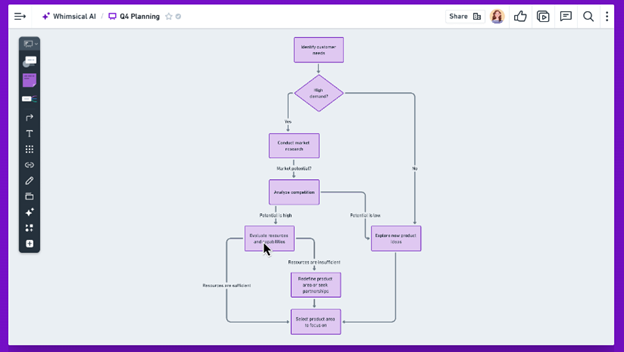 Conclusion
In the fast-paced world of modern communication and data visualization, AI flowchart tools have emerged as indispensable companions. From simplifying complex concepts to enhancing collaboration, these tools offer a vast range of benefits that can significantly boost productivity and creativity. Whether you're a professional, educator, or enthusiast, embracing AI flowchart tools can open up a world of possibilities, allowing you to streamline your ideas and decisions through captivating diagrams and charts. Explore the recommended tools mentioned above and embark on a journey of efficient and visually appealing diagram creation.
Related posts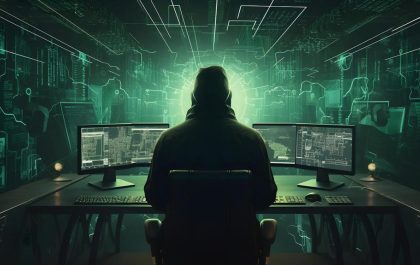 Cybersecurity's Blind Spot: Understanding the Scope of IP Theft in Healthcare and Pharmaceutical
Anastasios Arampatzis In the rapidly evolving landscape of the healthcare and pharmaceutical industries, intellectual property (IP) stands as the foundation…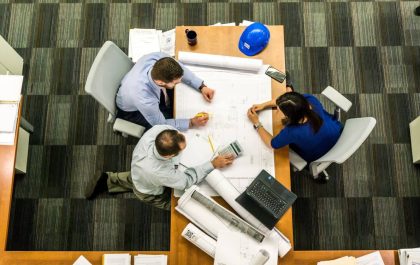 Data Analytics in Revenue Cycle Management (RCM): Leveraging Dental Software for Insights
The healthcare industry has been undergoing a major transformation in recent years, with a growing emphasis on data-driven decision-making. This…