Work Management Software: Collaborative work management software can help small businesses to streamline processes and cut down tedious manual work. Find out the best five of them.
"If you're trying to create a company. It's like baking a cake. You have to have all the ingredients in the right proportion."– Elon Musk
We believe that the aforementioned quote best describes the state of small business owners today. Yes, you can make some good money and be your own boss, but you also have to wear many hats at the same time as you try your best to effectively manage limited resources to make your business more efficient. 
Assigning tasks, scheduling events, tracking time, monitoring employees' performance, handling customers' requests, ensuring deadlines are met……There's a whole lot of stuff on small business owners' plate, and it can take its toll on you sooner or later. 
If you are finding it hard to manage all aspects of your work manually then using the right work management and team collaboration software can benefit your business (and you) in more ways than one. 
So, let's first understand what work management and team collaboration software is. 
What Is Collaborative Work Management Software?
Collaborative work management software offers a single, centralized platform to users to collaborate seamlessly on tasks and projects through a comprehensive suite of inbuilt features. These features enable users to efficiently plan, organize, and execute work as every team member stays in the loop of all recent activities within the project. 
Collaborative work management software are usually available as iOS and Android apps, which makes them easily accessible on any device, from any location. 
Using this type of application software, you can manage all aspects of work from a single location without having to switch between various applications. 
Top Five Collaborative Work Management Software In 2022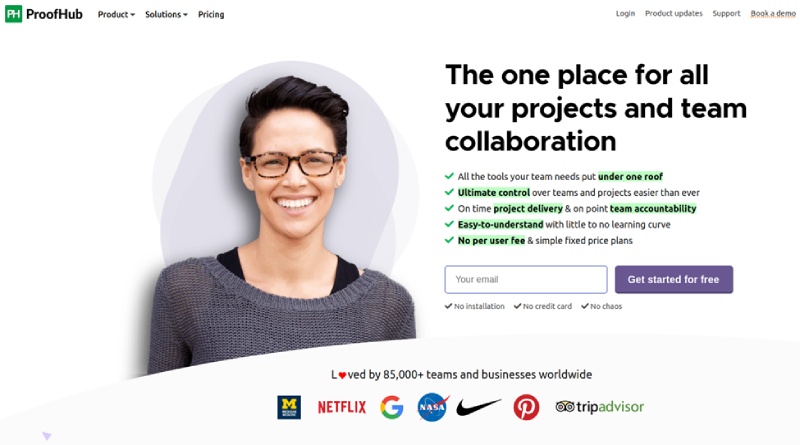 ProofHub is a top-rated SaaS work management and team collaboration software that offers an array of advanced tools under one visual roof to users. Simple to learn, easy to use, and intuitive, ProofHub gives project managers the ultimate control over projects and teams as they are able to track progress of both from a centralized location. 
ProofHub helps both in-office and remote teams improve coordination, communication, and project execution. The software also integrates with other apps your team already uses, which means you get to save a lot of valuable time. Be it allocating and tracking tasks, recording time spent on different activities, proofing files, or submitting work requests, ProofHub enables you to do all this and much more in the most simplified way possible. 
Standout Features of ProofHub include: 
Task management

Online proofing

Forms

Table view

Custom fields

Group chat

Online proofing

Reporting

Scheduling calendar

Timesheets

File management
Pricing: ProofHub offers flat-rate pricing models with no restrictions on the number of users. The Ultimate Control plan is priced at $89 per month when billed annually, and allows unlimited number of users.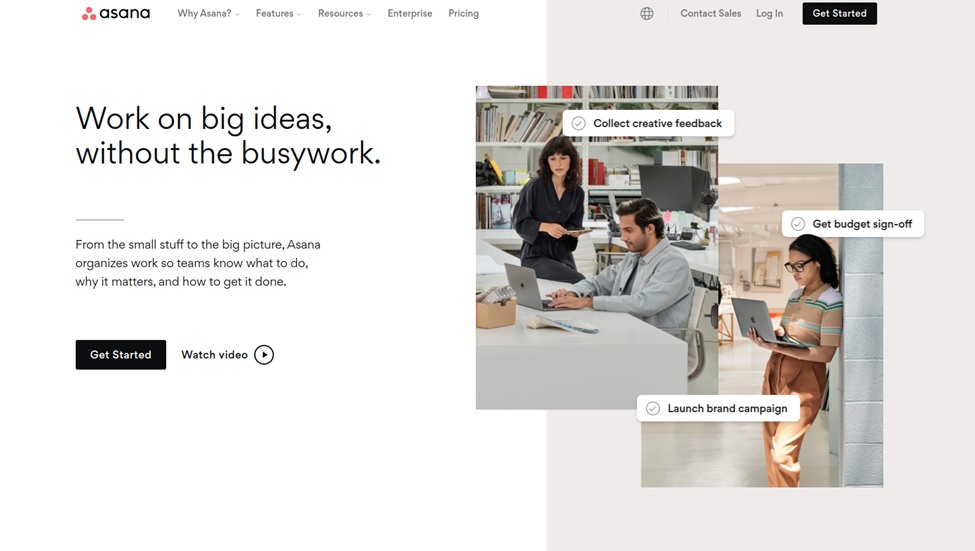 Asana is a customizable workplace management dashboard that allows users to divide complex projects into smaller, manageable tasks and set clear deadlines. Asana allows project managers to bring their team's work in one shared space. Teams can see what tasks they need to work on first and what is their due date. Asana's automation features help teams cut down tedious manual tasks and save valuable time in the process. 
Its ease of use, simplicity, and Kanban-style interface allows for a quick, straightforward onboarding process. Asana offers a rich set of features that can cater to most project team's requirements. Asana offers integrations with hundreds of other apps, like Zoom, Google Drive, Outlook, Slack, Microsoft 365, etc. Teams of any size can analyze their progress and address issues in one place without resorting to meetings, memos, and email updates. 
Standout Features of Asana include: 
Workflow builder

Timeline

Reporting

Workload

Shared calendar

Forms

Automation

App integrations

Timeline 

Multiple project views
Pricing: The Business plan is priced at $24.99, per user, per month, when billed annually.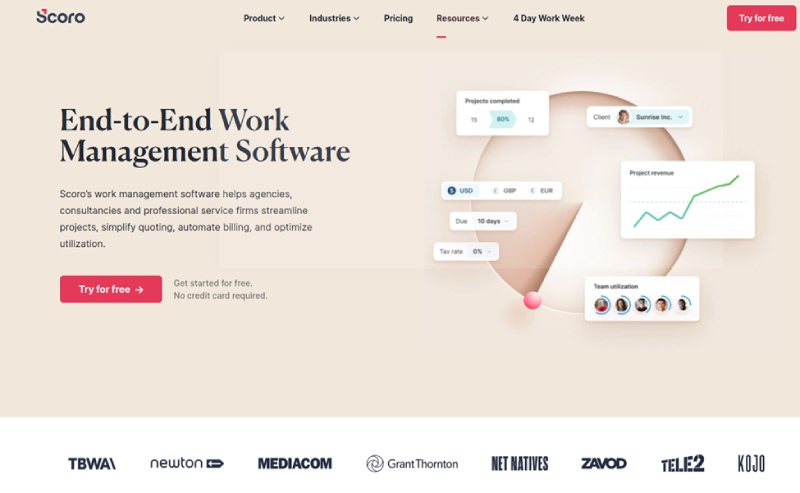 Scoro is an end-to-end work management software solution that enables small and mid-sized teams to streamline projects, simplify quoting, automate billing, and optimize utilization. Scoro just doesn't show you what activities your team is spending time on; it also shows you the worth of that time. The software provides a control hub for your business where you can track team productivity and profitability. 
From tiny tasks to big, complex projects, Scoro enables your widely dispersed teams to collaborate efficiently with a fully end-to-end work management software. Get a detailed view of planned and completed activities, time spent and billed, cost and income, to ensure optimal utilization. 
Standout Features of Scoro include: 
Project management

Time management

Sales and CRM

Reporting and Dashboards

Finances management

App integrations

Role-based access control

Enterprise-grade security
Pricing: The Pro plan costs $63 per user, per month.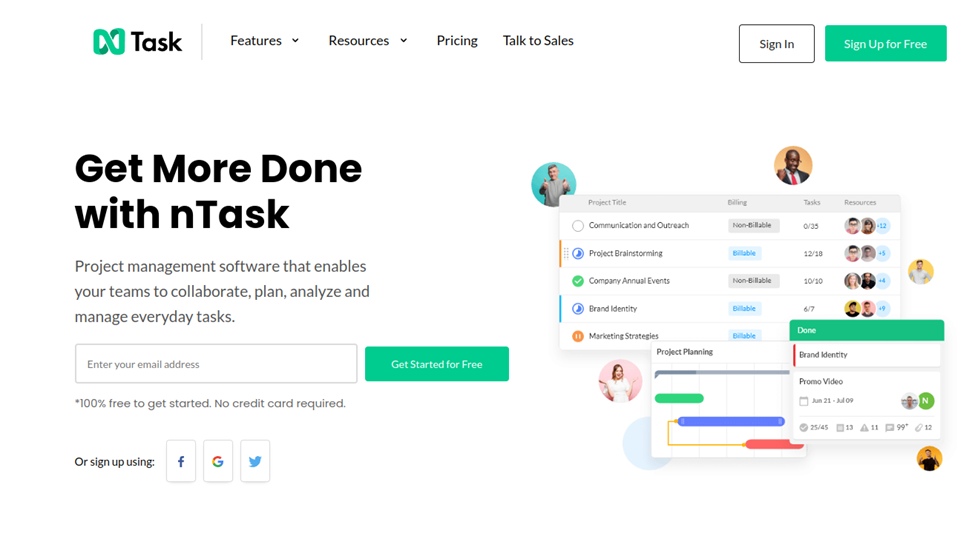 nTask is a cloud-based task management solution that is designed to cater to small businesses and individuals. The software has multilingual support and encourages seamless team communication, including Arabic, English, Chinese (Mandarin), German, French, Spanish, and Portuguese. nTask enables effective collaboration and communication between team members, which further encourages transparency. 
Project managers can use nTask to assign tasks, set recurring duties, generate progress reports, share files, reject and accept submissions, and much more. nTask's dashboard displays tasks and projects assigned to you and your team members. The nTask project management module streamlines your task dependencies, resource management, financial summary and manages your project deliverables. 
Standout Features of nTask Include: 
Project management

Meeting management

Task management

Issue tracking

Kanban board

Time tracking and timesheet

Risk management
Pricing: The Business plan is priced at $8 per user, per month, when billed annually.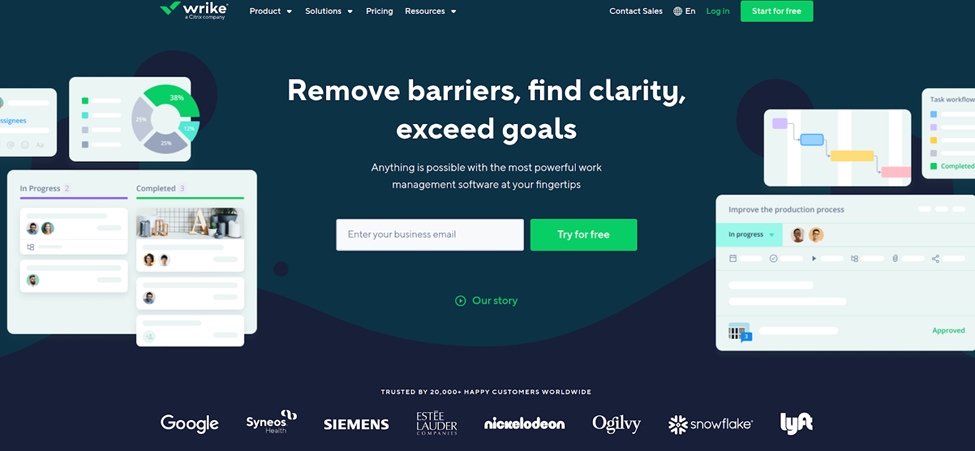 Wrike is a versatile and robust project management software that is designed for agencies, marketing teams, and professional service providers. The tool's flexibility makes it an ideal choice and almost any type of industry can use Wrike for streamlining work processes and achieving more efficiency at work. You can customize Wrike to best suit your organization.
The software provides real-time updates and you can identify potential roadblocks before they happen. Wrike's enterprise-grade security is unparalleled, and gives you complete control over your data. True cross-departmental collaboration, 360-degree visibility, and powerful automation empower your teams to do the best work of their lives. 
Standout Features of Wrike include: 
Interactive Gantt charts

Kanban boards

Purpose-built templates

Customer request forms

Visual proofing 

Digital publishing

Shared team calendars

Advanced analytics
Pricing: The Business plan is priced at $24.80 per user, per month. 
Conclusion 
Small businesses cannot afford to waste time. They need to utilize their resources efficiently. By using a good collaborative work management system software, small business owners can have complete control over their teams and work from anywhere, on any device. 
This type of software can help your teams and clients to be on the same platform for improved collaboration on work as your team members can stay updated on all recent activities within the project. 
The software also makes things transparent as every team member can see who is supposed to work on what and deliver it by when, which also promotes job accountability. So, get the best collaborative work management software and make your small business more organized and efficient.  
Also Read: What Is WordPress: The Ultimate Guide 
Related posts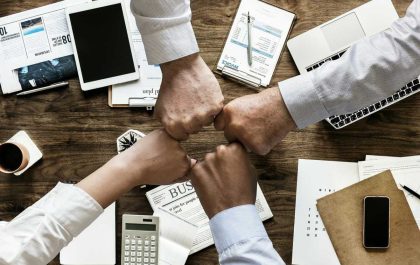 The Next Generation of Leaders: Insights from IB Business Management
With rapid globalization and technological developments, leaders have never been in greater demand. The International Baccalaureate (IB) program, widely acclaimed…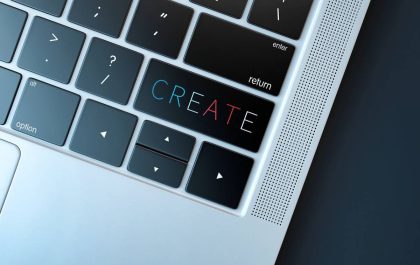 Unleashing Innovation: The Secrets Behind Successful Slot Game Developers
1. Introduction In the dynamic world of gaming, slot game development stands out as a thrilling and innovative field. In…