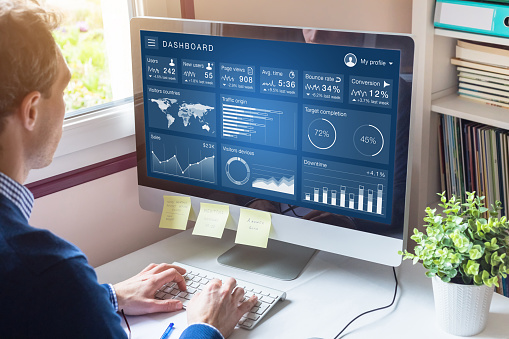 Create Useful Content
If you want to drive traffic to your website you'll need to make sure that the content on your website is useful to your readers and is structured in a way that is scannable and easy to read. Keep in mind that people who use search engines typically use them for one of three reasons:
They want to do something (i.e watch a cooking tutorial or read a review)
They want to learn something (i.e learn about martial arts or a dance routine)
And, They want to find something (i.e restaurants in the area or cupcake bakeries that deliver in the area)
Remember to consider this not only for your main website pages but also for any content that you create such as blog content, articles, and guest posts on any external website.
Promote Your Content
Promoting your content is another great way to drive more traffic to your website. Below are some easy ways that you can promote your website's content:
Share on your existing social media channels
Send e-mail newsletters to your existing database
Use paid search, social media, and display advertising
Submit press releases to well-known publications and journalists
Optimize Your Keywords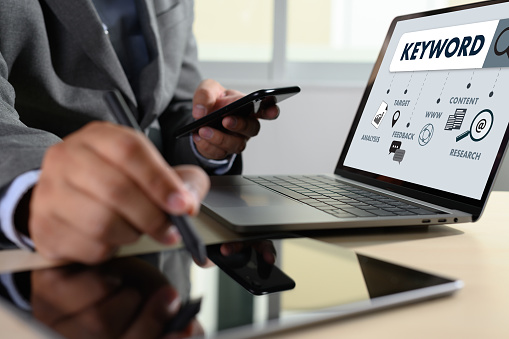 When adding content to your website, make sure it speaks to your user's intent so that it easily can be found via Google. This requires that your website's headings, content, and website structure are all optimized around specific keywords that your website visitors use to find products or services like yours.
You can use keyword research tools like Ahrefs Keyword Explorer or SEM Rush to explore and prioritize keywords relevant to your product or service. Once you have completed your keyword research, you will want to layout your content in a way that search engines and users find appealing. This includes: Making sure you have unique and relevant content that adds value to the readers, has a flawless user experience, is accessible on all devices, is keyword-focused, and is shareable. Below is an example of a "Perfectly Optimized Page".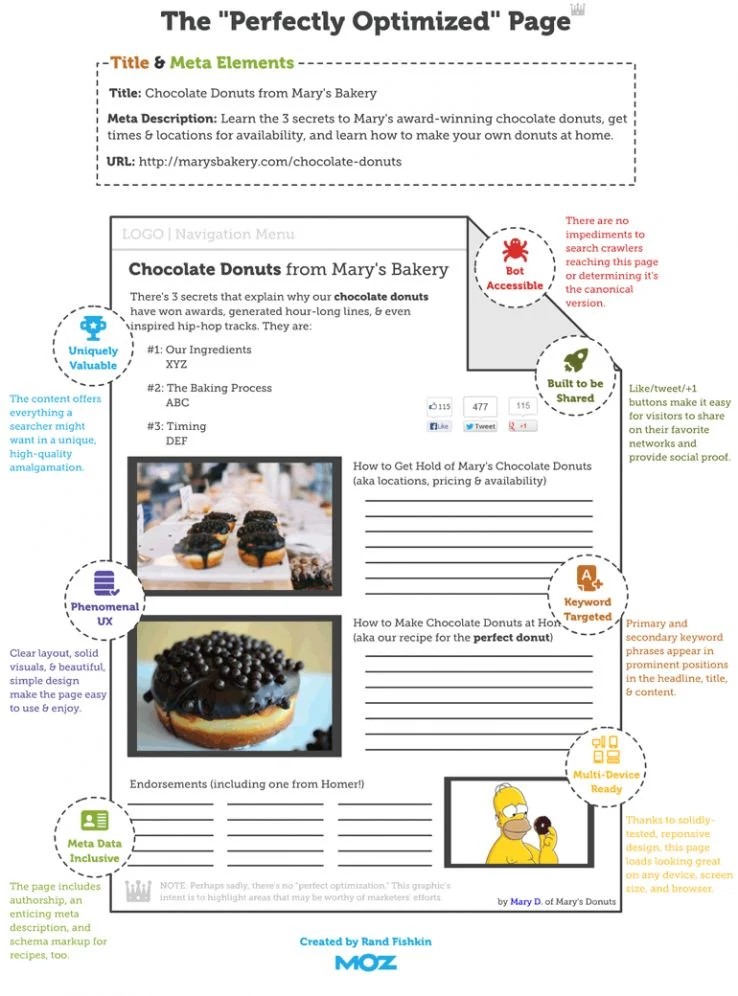 Image is taken from: https://moz.com/blog/visual-guide-to-keyword-targeting-onpage-optimization
Build Backlinks
Backlinking is considered one of the top-ranking factors when it comes to increasing domain authority for your website. By implementing these tactics regularly, your domain authority will increase, therefore your website will slowly begin to rank higher in the search engines. Below are three link-building techniques you can start using right away.
Guest Posting
One of many tactics you can use includes writing guest posts for websites that have higher domain authority, and have existing content that is relevant to your industry or topic. Within the articles, you will need to add editorial links that fit naturally within the article. Similar to how you see the links that are added throughout this article.
Monitor Brand Mentions
Sometimes other blogs or websites might mention you or your business in their post or article. This is one of the easiest ways to get a referring link. By monitoring your brand mentions through tools like Google Alerts, you can set up e-mail notifications to let you know when your brand has been mentioned online. This way, if you notice your brand has been mentioned, but not linked to your website, you can reach out to them, thank them for the mention, and simply ask them to add a link to the article to refer readers to your page.
"Borrow" Competitor Links
You can find several opportunities by searching for backlinks that refer to your competitors in publications, news outlets, or blogs. This can save you a lot of time since the article or post will be relevant to your product or service.
You can explore your competitor's backlinks through tools like Screaming Frog or by using the search engine and looking up your competitors. If you think your business would be of value for the publication all you need to do is find the editor's contact information on the website, reach out, tell them about yourself and ask them to link to your website. You might even get lucky by stumbling into a competitor's link that is broken. If that's the case, even better! You can easily jump on the opportunity to steal their link.
Be Consistent
If you want to get your first 1000 website visitors, see that number grow, and consistently attract people to your website, you need to start with a solid SEO foundation and always look to improve your website. To accomplish this, make sure everything is set up properly from the beginning, and create a schedule that you can maintain.
At this point, you're probably wondering: what SEO factors do I need to regularly maintain? Below I will provide you with the three main elements that influence your website's SEO and that you need to make sure are set up correctly:
Technical SEO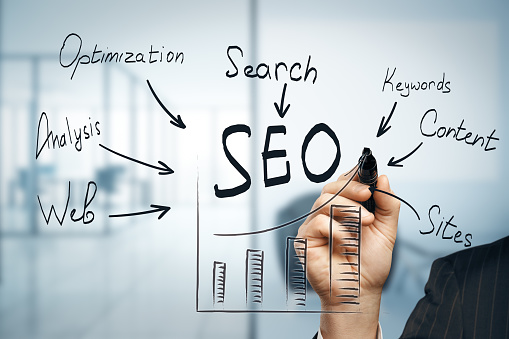 Technical SEO focuses on elements of the website that increase the likelihood that your website will be indexed and crawled by search engines bots. Although design and content are incredibly important, technical SEO is a fundamental aspect of any website and should never be overlooked.
Think of it as the "foundation" of your website. Similar to a house, you need to make sure you have a strong foundation before you start decorating (design & content) or inviting people over (link building). Setting up, analyzing, and fixing technical elements of the website is the best way to ensure your website starts on the right foot. Below are some elements of technical SEO you need to consider for your website.
Page Speed
Mobile Friendliness
Crawlability
Indexation
Accessibility
Onsite SEO
Onsite factors include everything on your website that helps search engines find it. These elements include:
Usability
User Experience
Design
Content
Offsite SEO
Offsite SEO (also known as link-building) is a process of obtaining links through external websites or pages by asking them to link to a page on your website. You will want to confirm that the links that you are obtaining are do-follow links, otherwise, the link won't help improve your domain authority. As mentioned previously in this article, domain authority helps with your website ranking in the search engines furthermore increasing organic traffic to your website. You can increase your domain authority by building your backlinks through brand mentions, guest posting, or by "borrowing" competitors' links. Alternatively, you can reach out to SEO professionals who can implement your offsite SEO tactics.
Conclusion
Getting your first 1000 organic website visitors might take a little longer than you'd expect, but with a little bit of work, dedication, and consistency you will get there. Remember that, unless you're really lucky, no significant progress happens overnight. Keep optimizing your website and success will follow.
Author Bio: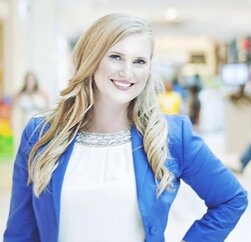 Heather Grundy is an SEO Specialist with over 10 years of experience in the marketing industry. Her passion is helping businesses thrive, by providing strategic services to boost their online presence and support their business goals.
TheITbase
TheITbase gives tech help to Audience. Learn how to utilize Technology by How-to guides, tips and also you can find cool stuff on the Internet.
Related posts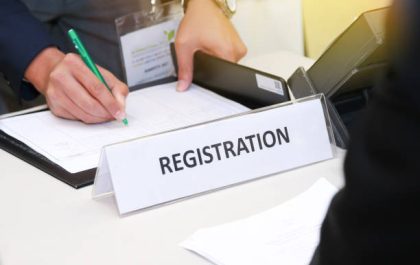 Questions You Must Ask When Registering a Company in Hong Kong
Are you thinking of expanding your company offshore? If your answer is "yes," it is one of the best considerations because…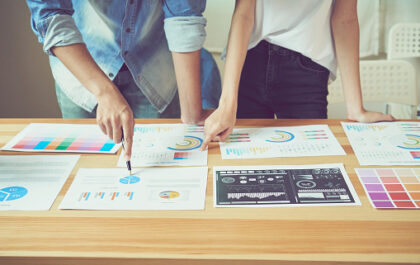 Why Brand Protection Services Are Necessary for Your Business
Counterfeiting is becoming more prevalent in the world of business across the globe. Despite continued measures to increase awareness, counterfeiting…